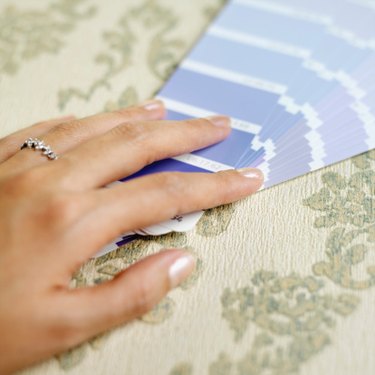 Replacing pure spot color inks, such as Reflex Blue, with four-color process color equivalents made up of cyan, magenta, yellow and black (CMYK) ink can save significant time and money on your printing projects. Reflex Blue is a beautiful, rich dark navy blue ink, one of the 14 Pantone basic colors used to mix the over 1,000 spot colors in the Pantone Matching System used by commercial printers. It is popular in logos and design, but is known to be slow drying and vulnerable to scuffs and smears. Pantone publishes an official spot-to-CMYK conversion guide, but you can use software such as Adobe Photoshop or free online color conversion tools to select a rough CMYK approximation for Reflex Blue.
Step 1
In your graphics software, select the portion of your image you wish to fill with a CMYK approximation of Pantone Reflex Blue.
Step 2
Make sure your image or document is in CMYK mode. In Photoshop, click on "Image" then "Mode" then "CMYK Color."
Step 3
In the color swatches panel, create a new swatch with an approximation value that matches your paper type. Programs such as Photoshop or InDesign have preloaded swatch libraries for this purpose: "PANTONE Color Bridge PC" is for coated or glossy papers, and "UP" is for for uncoated or matte papers. You can also input these values manually: 100 percent cyan, 82 percent magenta, 0 percent yellow and 2 percent black for coated papers; and 91 percent cyan, 69 percent magenta, 0 percent yellow and 0 percent black for uncoated papers.
Step 4
Fill the desired area with your new swatch color.
Step 5
If feasible, ask your printer to do a test print using your CMYK equivalent for Reflex Blue, and compare it to an original Reflex Blue PANTONE chip.