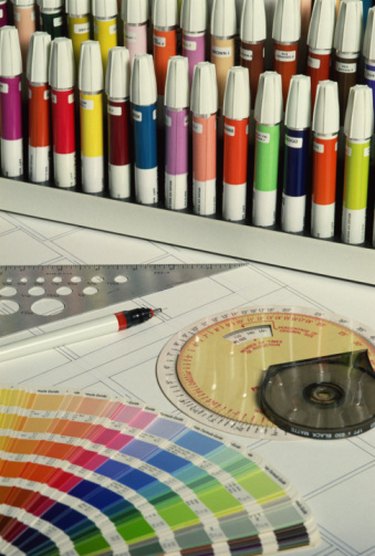 Pantone LLC, a subsidiary of X-Rite, Incorporated, is recognized as the worldwide authority on color-matching technology. Designers specify Pantone colors by number. As a project moves through the production chain, the use of Pantone colors eliminates variations in color. By default, the Adobe InDesign color palette displays combinations of CMYK colors, four ink colors used in the commercial printing process. However, InDesign provides options to include Pantone colors in the color palette to give designers greater control over color matching.
Step 1
Launch InDesign and open a new document by selecting "New" and "Document" from the "File" menu.
Step 2
Select "Swatches" from the "Color" submenu in the "Windows" menu to open the "Swatches" panel.
Step 3
Select "New Color Swatch" from the swatches drop-down menu.
Step 4
Click in the "Color Mode" drop-down menu, and select a Pantone color library that you want to use. There are several to choose from: "Pantone Solid Coated" is a widely used choice.
Step 5
Select the color that you want to add; you can select multiple colors by holding down the control key as you select the colors.
Step 6
Click "Add" to add the selected colors to the swatches palette. Click "Done" when you have added the desired Pantone colors.