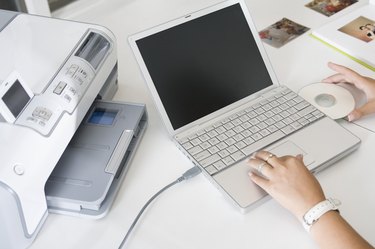 Materials printed with metallic ink catch the eye with the sparkle in the ink. According to The Paper Mill Store, metallic ink contains actual metal particles or flakes suspended in a medium. Consequently, the ink is thicker, and consistent results are not guaranteed. Specialty printing presses and commercial printers have the capacity to add metallic ink. Newer technologies such as that from Roland incorporate specific ink cartridges or reservoirs that mix metallic particles with dye-based ink to produce metallic colors such as metallic red, gold, silver or copper. Special considerations include processing, drying and medium to achieve optimum results.
Step 1
Choose specific areas in your design or layout for the metallic ink for maximum impact. Design software where colors can be selected includes QuarkXpress, PhotoShop, Paint and Corel.
Step 2
Use screen tints for metallic areas between 5 to 55 percent.
Step 3
Read the manufacturer's instructions for the printer and for the ink to verify the procedure for preparing a print because some manufacturers require color management systems (such as Roland) or several passes of a sheet for printing (such as MetalFX). If necessary, install this software prior to printing. For example, Roland printers include VersaWorks RIP software which has a library of color charts, swatch books and metallic color blends for the XC-540MT printer. The MetalFX system involves printing a base silver coat followed by subsequent passes of colored inks.
Step 4
Consider whether glossy paper, semi-gloss or matte will produce the desired effect.
Step 5
Check whether the print heads and heating elements require cleaning and/or warm up time before printing.
Step 6
Run a test print to check for color saturation and trapping (clean edges between the colors).
Step 7
Allow drying time, if specified by the printer, ink or media manufacturer.