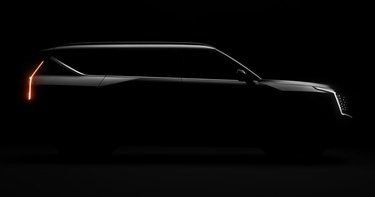 If you've been waiting for an electric SUV to hit the market that's big enough to fit your kids, pets, stroller, and all the other gear you schlep around on a daily basis, check out Kia's new EV9.
While the EV9 won't be released until 2024 and information is sparse, Kia just released a new video and a few photos that show the production version of the SUV.
Just like its smaller electric sibling, the EV6, the EV9 is built on the company's shared Electric Global Modular Platform (E-GMP).
As far as the size goes, the EV9 will have a third row and is expected to be dimensionally similar to the Kia Telluride or Cadillac Escalade. Since SUVs can be gas guzzlers and aren't exactly helpful to the environment, an electric SUV will certain be a great ec0-friendly option while helping to save on gas. The EV9 will be one of only a few existing three-row electric vehicles, including the Rivian R1S, Mercedes EQS, Model X, and Model Y.
Here's Kia's new teaser for the EV9:
The interior and exterior design of the EV9 will be revealed in mid-march, and the product information will be fully disclosed during the Kia EV9 World Premiere in late March.