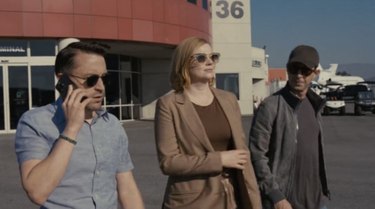 The list of movies and new seasons coming to HBO and HBO Max in March is small but mighty. In addition to several older movies making their way to the platform, including "Creed," "The Expendables," "I Love You, Man," "Milk," and "The Blue Lagoon," there are several season premieres happening as well.
The first season of "Mariachis" will premiere at the streamer, as will new season of "Perry Mason," "Rain Dogs," and "Beach Cottage Chronicles." Marlon Wayans has a new comedy special premiering on March 2, and you'll finally get to watch the season finale of "The Last of Us" on March 12.
The month ends with a bang — the season 4 premiere of "Succession" will hit HBO on March 26.
Scroll on for the full lineup.
Beatriz at Dinner, 2017 (HBO)
Best of Enemies, 2015 (HBO)
Finding Forrester, 2000 (HBO)
House at the End of the Street, 2012 (HBO)
I Love You, Man, 2009 (HBO)
Make Your Move, 2013 (HBO)
My Bloody Valentine, 1981 (HBO)
Night at the Museum: Secret of the Tomb, 2014 (HBO)
The Brothers Bloom, 2008 (HBO)
Trespass Against Us, 2016 (HBO)
Un Gallo Con Muchos Huevos ("A Brave Little Rooster"), 2015 (HBO)
Vampire in Brooklyn, 1995 (HBO)
Whitey: United States of America v. James J. Bulger, 2014 (HBO)
Marlon Wayans: God Loves Me, Max Original premiere
Mariachis, Max Original season 1 premiere
Perry Mason, season 2 premiere (HBO)
Rain Dogs, season premiere (HBO)
The Last of Us, season finale premiere (HBO)
Beach Cottage Chronicles, season 2
All the Beauty and the Bloodshed, documentary premiere (HBO)
Only You: The Animated Shorts Collections, 2023
Succession, season 4 premiere (HBO)