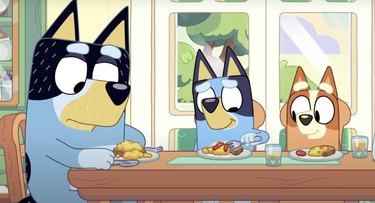 Disney+ is bringing on a slew of new shows in July, including new episodes of "Kiya & the Kimoja Heroes," "Mickey Mouse Funhouse," "SuperKitties," and "Bluey."
Also coming to the streamer next month is a big selection of shark week content, which includes several specials and new shows about bull sharks, sharks eating other sharks, shark attacks, and more.
Scroll on for the full list below.
Bull Shark Bandits (special)
Bull Shark vs. Hammerhead (special)
Most Extreme Sharks (S1, 4 episodes)
Return of the White Shark (special)
Saved From a Shark (special)
Shark Below Zero (special)
Shark Eat Shark (special)
Sharks vs. Dolphins: Bahamas Battleground (special)
When Sharks Attack 36 (S1, 6 episodes)
When Sharks Attack…And Why (S1, 5 episodes)
Kiya & the Kimoja Heroes (S1, 5 episodes)
Kizazi Moto: Generation Fire – Premiere – All Episodes Streaming
Secret Invasion – Episode 3
UFOs: Investigating the Unknown (S1, 5 episodes)
Never Say Never with Jeff Jenkins (S1, 8 episodes)
Secret Invasion – Episode 4
Yuzuru Hanyu Ice Story 2023 "Gift" at Tokyo Dome – Premiere
Grown-Ish (S5, 18 episodes)
Hailey's on It! (S1, 5 episodes)
Miraculous Tales of Ladybug & Cat Noir (S5, 6 episodes)
SuperKitties (S1, 4 episodes)
America's Funniest Home Videos (S20-22)
Secret Invasion – Episode 5
Life Below Zero: Port Protection Alaska (S6, 16 episodes)
Me & Mickey Shorts (S2, 10 episodes)
Mickey Mouse Funhouse (S2, 5 episodes)
Pretty Freekin Scary (S1, 7 episodes)
Raven's Home (S6, 5 episodes)
Secret Invasion – Episode 6
The Wonderful World of Mickey Mouse: Steamboat Silly – Premiere