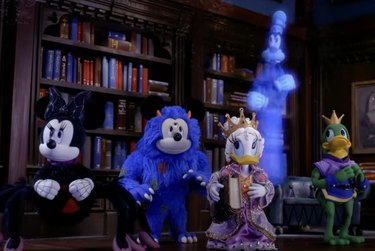 Disney+ is bringing on plenty of Halloween content in October. In fact, the streaming platform is so dedicated to the spooky holiday, it celebrates the season with Hallowstream, a section dedicated to Halloween-inspired content.
You'll also have several other genres of programming to watch, including a live episode of "Dancing With the Stars" each week, the season finale of "Star Wars: Ahsoka," the premiere of "Lego Marvel Avengers: Code Red," and new episodes of "Loki" and "Alice's Wonderland Bakery."
Scroll on to check out everything coming to Disney+ in October.
Toy Story Funday Football (Livestreaming at 9:30 a.m. ET)
Mickey and Friends Trick or Treats
Dancing with the Stars (Season 32, Episode 2) (Live 5 p.m. to 7:31 p.m. PT)
Star Wars: Ahsoka Episode 8/Season Finale
Hailey's On It! (S1, 5 episodes)
SuperKitties (S1, 3 episodes)
The Villains of Valley View (S2, 4 episodes)
Loki (Season 2 premiere available at 6 p.m. PT)
Bobi Wine: The People's President
Dancing with the Stars (Season 32, Episode 3 (Live 5 p.m. to 7:31 p.m. PT)
Alice's Wonderland Bakery (S2, 7 episodes)
Broken Karaoke (Shorts) (S2, 3 episodes)
The Simpsons (S34, 22 episodes)
Heartland Docs, Dvm (S5, 12 episodes)
4EVER (Premiere – All Episodes Streaming)
Loki (Season 2, Episode 2) Available at 6 p.m. PT)
Goosebumps Premiere (Episodes 1-5 streaming)
Dancing with the Stars (Season 32, Episode 4) (Live 5 p.m. to 7:31 p.m. PT)
PJ Masks: Power Heroes Music Videos (Shorts) (S1, 10 episodes)
Loki (Season 2, Episode 3 (Available at 6:00 pm PT)
Werewolf by Night in Color
Dancing with the Stars (Season 32, Episode 5) (Live 5 p.m. 7:31 p.m. PT)
Big City Greens (S4, 5 episodes)
Running Wild with Bear Grylls: The Challenge (S2, 8 episodes)
Theme Song Takeover (Shorts) (S3, 7 episodes)
Primal Survivor: Extreme African Safari (All Episodes Streaming)
Loki (Season 2, Episode 4) (Available at 6 p.m. PT)
Explorer: Lake of Fire (Special)
Lego Marvel Avengers: Code Red Premiere
Dancing with the Stars (Season 32, Episode 6) (Live 5 p.m. to 7:31 p.m. PT)