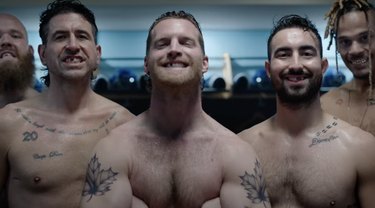 It's officially sweater weather and pumpkin spice season, and that means it's about time to curl up on the couch and watch some quality programming. To kick off October, Hulu is bringing on a slew of great TV shows and movies.
In addition to the Huluween content that's already begun on the streaming platform (there are a whole lot of scary movies, so if that's your thing, you're in luck), there will be plenty more to watch, including several documentary and movie premieres and plenty of new seasons of popular shows.
Check out the full list of content coming to Hulu in October below.
The Amazing Race: Complete Season 22
America's Next Top Model: Complete Seasons 4-5, 9-10
Ash vs. Evil Dead: Complete Series
Crazy Fun Park: Complete Limited Series
Stephen King's Rose Red: Complete Series
Survivor: Complete Seasons 2-7
Sword Art Online: Alicization: Complete Season 2 (dubbed)
Undercover Boss: Complete Season 9
An American Citizen | 1992
Dazed and Confused | 1993
Exorcism Of Emily Rose | 2005
Exorcist: The Beginning | 2004
Flight Of The Phoenix | 2004
Godzilla: Final Wars | 2005
Good Day To Be Black And Sexy | 2008
Hollywood Homicide | 2003
Interview With the Vampire | 1994
It (Stephen King's) | 1990
Leprechaun 4: Lost In Space | 1997
Leprechaun V: In The Hood | 2000
Leprechaun VI: Back 2 Tha Hood | 2003
Leprechaun Origins | 2014
Leprechaun Returns | 2019
Little Miss Sunshine | 2006
Murder on the Orient Express | 2017
Outrage: Way of the Yakuza | 2010
Pusher II: With Blood On My Hands | 2004
Pusher III: I'm The Angel Of Death | 2005
Sleepless in Seattle | 1993
Tyler Perry's Why Did I Get Married? | 2007
Tyler Perry's Why Did I Get Married Too? | 2010
Fright Krewe: Complete Season 1
Bob's Burgers: Season 14 Premiere
Family Guy: Season 22 Premiere
The Simpsons: Season 35 Premiere
Aftermath with William Shatner: Seasons 1-2
America's Book of Secrets
America's Psychic Challenge: Complete Season 1
American Haunting: Complete Season 1
Beyond Scared Straight: Season 2 and 8
Beyond the Headlines: Escaping the NXIVM Cult with Gretchen Carlson: Complete Season 1
Beyond the Headlines: Secrets of a Marine's Wife: Complete Season 1
Beyond the Headlines: The College Admissions Scandal With Gretchen Carlson: Complete Season 1
Butchers of the Bayou: Complete Season 1
Casanova Killers : Complete Season 1
Celebrity Ghost Stories (2009): Complete Season 2
Cursed: The Bell Witch: Complete Season 1
Dance Moms: : Complete Season 7
Dance Moms: Abby's Studio Rescue: Complete Season 1
Dead Again: Complete Season 1
Duck Dynasty: Complete Seasons 5 and 8
Extreme Unboxing: Complete Season 1
Flip This House: Complete Season 3
The Haunting Of. . . Complete Seasons 2-4
Killer Kids: Complete Season 1
Killer Teens: Complete Season 1
Little Women: Atlanta: Complete Season 3
Little Women: Dallas: Complete Season 1
Little Women: LA: Complete Season 3
Married at First Sight: Complete Seasons 4 and 9
Model Killers: Complete Season 1
Mountain Men: Complete Season 6
Murder on Maple Drive: Special Premiere
My Haunted House: Complete Seasons 1-2
Paranormal Cops: Complete Season 1
Pawn Stars: Complete Seasons 13 and 14
Psychic Kids: Complete Season 1
The Unexplained: Complete Season 1
Who Killed Tupac? Complete Season 1
Zombie House Flipping: Complete Season 2
Undead Unluck: Series Premiere
Bobi Wine: The People's President: Special Premiere
Standing Up Falling Down | 2019
Heartland Docs, DVM: Season 5 Premiere
Monster Inside: America's Most Extreme Haunted House: Documentary Premiere
Food Tech: Complete Season 1
Gwen Shamblin: Starving for Salvation: Special Premiere
I Survived: Complete Seasons 3-4
Paranormal State: Complete Season 1
Suicide Missions: Complete Season 1
The First 48: Complete Season 20
Goosebumps: Series Premiere
One Piece: Complete Season 10 (dubbed)
Hobo With A Shotgun | 2011
Toni Morrison: The Pieces I Am | 2019
Living for the Dead: Complete Season 1
The Curse of Civil War Gold: Complete Season 2
Epic Meal Empire: Complete Season 1
Hideous Houses: Complete Season 1
I Killed My BFF: Complete Seasons 2-3
Teenage Newlyweds: Complete Season 1
Vanished: Searching for My Sister: Special Premiere
Totally Under Control | 2020
Primal Survivor: Extreme African Safari: Complete Season 1
FX's American Horror Stories: Four-Episode Huluween Event
My Evil Sister: Complete Season 1
The President's Book of Secrets: Complete Season 1
Tiny House Hunting: Complete Season 4
The Torso Killer Confessions: Complete Season 1
Waterfront House Hunting: Complete Season 2
Shoresy: Complete Season 2
Explorer: Lake of Fire: Special Premiere
Jiro Dreams of Sushi | 2011