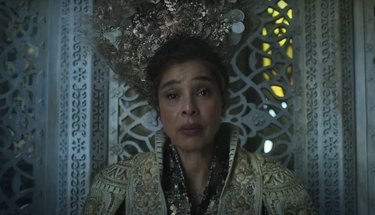 If you've been wondering what to watch this summer, that's going to change in September. Amazon Prime Video is bringing on some bangers, including a new season of "The Wheel of Time," "Guy Ritchie's The Covenant," and all six seasons of the late 90s/early 00s sitcom "Spin City."
But if you're in the mood to watch movies, Amazon Prime Video is the place to go as the streamer is adding a looooong list of films. Seriously, there are so many movies being added, you won't have a hard time finding something to watch ever again.
Check out the list below.
The Wheel of Time Season 2 (2023)
One Shot: Overtime Elite (2023)
Thursday Night Football (2023)
Written in the Stars (2023)
10 Things I Hate About You (1999)
2001: A Space Odyssey (1969)
A Bullet for Pretty Boy (1970)
A Man Called Sarge (1990)
Abbott And Costello Meet Frankenstein (1948)
Alakazam the Great (1961)
All About My Mother (2000)
American Ninja 2: The Confrontation (1987)
American Ninja 3: Blood Hunt (1989)
American Ninja 4: The Annihilation (1991)
And Your Name Is Jonah (1979)
Are You In The House Alone? (2022)
As Above, So Below (2014)
Belly Of An Architect (1990)
Billion Dollar Brain (1967)
Bowling For Columbine (2002)
Boy of the Streets (1937)
Calendar Girl Murders (1984)
California Dreaming (1979)
Captain Kidd and the Slave Girl (1954)
Carve Her Name with Pride (1958)
Cheerleaders Beach Party (1978)
Chrome and Hot Leather (1971)
Cocaine: One Man's Seduction (1983)
Conan The Barbarian (2011)
Curse Of The Swamp Creature (1966)
Curse of the Undead (1959)
Dagmar's Hot Pants, Inc. (1971)
Danger in Paradise (1977)
Detective Kitty O'Day (1944)
Detective School Dropouts (1986)
Diary of a Bachelor (1964)
Don't Worry, We'll Think of a Title (1966)
Dr. Heckyl and Mr. Hype (1980)
Driving Miss Daisy (1990)
Electra Glide In Blue (1973)
Explosive Generation (1961)
Flight That Disappeared (1961)
Flight to Hong Kong (1956)
For The Love of Aaron (1994)
For The Love of It (1980)
For Those Who Think Young (1964)
Four Weddings and a Funeral (1994)
From Hollywood to Deadwood (1989)
Grievous Bodily Harm (1988)
Here Comes the Devil (2012)
Hot Under The Collar (1991)
Intimate Strangers (2006)
Invisible Invaders (1959)
It Rains In My Village (1968)
Jeff, Who Lives At Home (2011)
Ladybird, Ladybird (1995)
Legally Blonde 2: Red, White And Blonde (2003)
Legend Of Johnny Lingo (2003)
Little Dorrit (Part 1) (1988)
Little Dorrit (Part 2) (1988)
Masters Of The Universe (1987)
Meeting At Midnight (1944)
Midnight in the Switchgrass (2021)
Miss All American Beauty (1982)
Mission of the Shark (1991)
National Lampoon's Movie Madness (1983)
Observe and Report (2009)
Operation Atlantis (1965)
Passport To Terror (1989)
Portrait Of A Stripper (1979)
Predator: The Quietus (1988)
Private Investigations (1987)
Raiders of the Seven Seas (1953)
Reform School Girls (1969)
Riot in Juvenile Prison (1959)
Sense And Sensibility (1996)
Seven Hours to Judgment (1988)
She's Out of My League (2010)
Space Probe Taurus (1965)
Sword Of The Valiant (1984)
The Adventures Of Gerard (1978)
The Adventures Of The American Rabbit (1986)
The Assisi Underground (1986)
The Bad News Bears (1976)
The Beast with a Million Eyes (1955)
The Bourne Identity (2002)
The Bourne Supremacy (2004)
The Chronicles of Riddick (2004)
The Clown and the Kid (1961)
The Diary of a High School Bride (1959)
The Final Alliance (1990)
The Ghost in the Invisible Bikini (1966)
The Incredible 2-Headed Transplant (1971)
The Jewel Of The Nile (1985)
The Late Great Planet Earth (1979)
The Legend of Zorro (2005)
The Little Vampire (2017)
The Manchu Eagle Murder Caper Mystery (1975)
The Manchurian Candidate (1962)
The Motorcycle Diaries (2004)
The Mouse on the Moon (1963)
The Night They Raided Minsky's (1968)
The Secret In Their Eyes (2010)
The Sisterhood of the Traveling Pants (2005)
The Spiderwick Chronicles (2008)
The Sum of All Fears (2002)
The Winds of Kitty Hawk (1978)
Three Came To Kill (1960)
Three Kinds of Heat (1987)
Through Naked Eyes (1983)
Tough Guys Don't Dance (1987)
War, Italian Style (1967)
We Still Kill the Old Way (1968)
When A Stranger Calls (2006)
Where the Buffalo Roam (1980)
Where the River Runs Black (1986)
Zack And Miri Make A Porno (2008)
Sitting in Bars with Cake (2023)
A Million Miles Away (2023)
A Thousand and One (2023)
Guy Ritchie's The Covenant (2023)