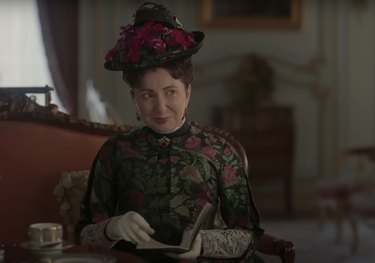 Max may have dropped the HBO, but the streaming platform certainly continues to bring on plenty of movies and series worth paying attention to.
While you can expect a plethora of movies (both new and old), you'll also have new seasons of fan-favorite shows to watch, including "The Gilded Age," "Our Flag Means Death," and "Doom Patrol."
Scroll on for the full list of content coming to Max in October.
The Adventures of Pinocchio (1996)
All About the Benjamins (2002)
The Amazing Panda Adventure (1995)
Angels in the Outfield (1951)
The Asphalt Jungle (1950)
Celeste and Jesse Forever (2012)
Charlie Wilson's War (2007)
The Curse of Frankenstein (1957)
Dracula Has Risen from the Grave (1969)
Evil Lives Here: The Killer Speaks, Season 1 (ID)
Final Destination 2 (2003)
Final Destination 3 (2006)
Final Destination 5 (2011)
The Final Destination (2009)
The Five Heartbeats (1991)
Freddy's Dead: The Final Nightmare (1991)
French Connection II (1975)
The French Connection (1971)
Harold & Kumar Escape from Guantanamo Bay (2008)
House of Sand and Fog (2004)
If Beale Street Could Talk (2018)
In the Heart of the Sea (2015)
In the Kitchen with Abner and Amanda, Season 2 (Magnolia Network)
Jack Osbourne's Night of Terror, Season 1 (Travel Channel)
Journey 2: The Mysterious Island (2012)
Leatherface: The Texas Chainsaw Massacre III (1990)
The Legend of Bagger Vance (2000)
Looney Tunes: Back In Action (2003)
Meg 2: The Trench (2023) *Starting 9/29
The Neverending Story (1984)
The Neverending Story II: The Next Chapter (1991)
A Night at the Roxbury (1998)
An Officer and a Gentleman (1982)
The Phantom of The Opera (2004)
Ranch to Table, Season 4 (Magnolia Network)
The Ringleader: The Case of the Bling Ring (HBO)
Stephen King's Cat's Eye (1985)
Teen Titans Go!: Welcome To Halloween, Season 8 (Cartoon Network)
The Texas Chainsaw Massacre (2003)
The Texas Chainsaw Massacre: The Beginning (2006)
Tom and Jerry: The Movie (1993)
Tom and Jerry: A Nutcracker Tale (2007)
Tom and Jerry: Santa's Little Helpers (2014)
Valerie's Home Cooking, Season 14 (Food Network)
The Whole Ten Yards (2004)
Whose Line Is It Anyway?, Season 10 (The CW)
Willy Wonka & the Chocolate Factory (1971)
Hostage 911, Season 1 (ID)
Bering Sea Gold, Season 11B (Discovery Channel)
Ghost Adventures: Devil Island, Special (Discovery Channel)
Mysteries of the Abandoned: Hidden America, Season 2 (Science Channel)
BattleBots, Season 7B (Discovery Channel)
Oscar's Handmade Halloween (Max Original)
Our Flag Means Death, Season 2 (Max Original)
90 Day Fiance Pillow Talk: Before The 90 Days, Season 6 (TLC)
Bugs Bunny Builders: Hard Hat Time: Haunted Garage (Cartoon Network)
Deane's Dynasty (Max Original)
HGTV Urban Oasis Special (HGTV)
Jessica's Big Little World, Season 1 (Cartoon Network)
Makeover by Monday, Season 2 (Magnolia Network)
Ready to Love, Season 3C (OWN)
90 Day Fiance, Season 10 (TLC)
Last Stop Larrimah (2023) (HBO)
Teen Titans Go!: Haunted Tank, Season 8 (Cartoon Network)
The Matthew Shepard Story: An American Hate Crime (ID)
Street Outlaws vs. The World (Discovery Channel)
Ghost Adventures, Season 20C (Discovery Channel)
Doom Patrol, Season 4 (Max Original)
Frankelda's Book of Spooks (Max Original)
Symon's Dinners Cooking Out, Season 5 (Food Network)
Naked and Afraid, Season 9C (Discovery Channel)
Wardens of the North (Animal Planet)
Good Bones, Season 8 (HGTV)
Candy Cruz (Max Original)
Peter & the Wolf (2023) (Max Original)
Teenage Kiss: The Future Is Dead (Max Original)
Beach Cottage Chronicles, Season 3 (Magnolia Network)
Cabin Chronicles: Renovation (Magnolia Network)
First Time Fixer, Season 5 (Magnolia Network)
aka MR. CHOW (2023) (HBO)
Justice League: Warworld (2023)
Restoration Road With Clint Harp, Season 4 (Magnolia Network)
Supermarket Stakeout, Season 5 (Food Network)
Bargain Mansions, Season 5 (Magnolia Network)
Strange Evidence, Season 7 (Science Channel)
The Murder Tapes, Season 6A (ID)
The Haunted Museum, Season 2 (Travel Channel)
A Time to Kill, Season 4A (ID)
Diary of an Old Home, Season 3 (Magnolia Network)
Adult Swim Smalls, Season 5 (Adult Swim)
Mecha Builders (Cartoon Network)
The Gilded Age, Season 2 (HBO)