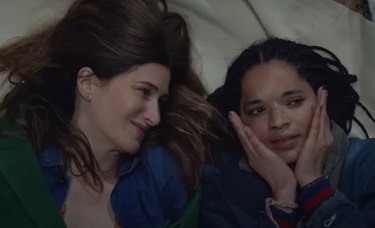 April showers bring May flowers and plenty of new TV episodes and movies over on Hulu.
In addition to loads of classic '80s and '90s movies like "Revenge of the Nerds," "Father of the Bride," "Bid Daddy," "Courage Under Fire," "Boys on the Side," and "Made in America," you'll be getting a slew of newer films as well, including "Body At Brighton Rock," "Beast of Burden," "The Honeymoon," and "War with Grandpa."
Also coming to Hulu in April is the original series "Tiny Beautiful Things," psychological drama "Saint X," and the season three premiere of the cult comedy "Dave." Plus, the entire "New Girl" series will be available to stream on April 17.
Check out the full roster headed to Hulu next month.
Black Clover (complete seasons 1-2 SUBBED & DUBBED)
Dr. Stone (complete season 1 SUBBED & DUBBED)
Log Horizon (complete season 1 SUBBED & DUBBED)
Overlord (complete season 2 SUBBED & DUBBED)
That Time I Got Reincarnated as a Slime (complete season 1 SUBBED & DUBBED)
Toriko (complete season 1 DUBBED)
Because Of Winn-Dixie (2005)
Bend It Like Beckham (2003)
Beverly Hills Ninja (1997)
Body At Brighton Rock (2019)
The Boondock Saints II: All Saints Day (2009)
Breakin' All The Rules (2004)
Courage Under Fire (1996)
The Diary Of A Teenage Girl (2015)
Diary of a Wimpy Kid: Dog Days (2012)
Everybody Loves Somebody (2017)
Fantastic Four: Rise of the Silver Surfer (2007)
Father Of The Bride (1991)
Father Of The Bride Part II (1995)
Glee the 3D Concert Movie (2011)
John Tucker Must Die (2006)
The Lady In The Van (2016)
Mr. Popper's Penguins (2011)
Nanny McPhee Returns (2010)
Revenge of the Nerds (1984)
Revenge of the Nerds II: Nerds in Paradise (1987)
Rise of the Planet of the Apes (2011)
The Secret Life Of Bees (2008)
Tim & Eric's Billion Dollar Movie (2012)
Chainsaw Man (complete season 1 Dubbed)
Pretty Baby: Brooke Shields
Escape From Planet Earth (2013)
The Good Mothers (complete limited series)
Reginald the Vampire (complete season 1)
Area21 Live on Planet Earth (2023)
Dave ( season 3 premiere)
Spy x Family (season 1, part 2 DUBBED)
Tiny Beautiful Things (new, complete limited series)
The New York Times Presents: The Legacy of J Dilla
The Queen Of Versailles (2012)
Blood Money (complete season 1)
Ice Road Truckers (complete season 3)
Swamp People: Serpent Invasion (complete season 1)
Am I Being Unreasonable? (complete season 1)
34th Annual GLAAD Media Awards
Single Drunk Female (complete season 2)
Dan Rhodes Quick Tricks MiniMash (complete season 1)
Denis Ultimate Mishmash (complete season 1)
Karina Garcia Ultimate Mishmash (complete season 1)
KidCity Ultimate Mishmash (complete season 1)
KONOSUBA (complete season 1 SUBBED & DUBBED)
LankyBox Ultimate Mishmash (complete seasons 2-3)
Mackenzie Turner Ultimate Mishmash (complete season 1)
Mob Psycho 100 (complete season 1 SUBBED & DUBBED)
One Piece (episodes 153-325 DUBBED)
Welcome to Demon School! Iruma-kun: complete season 1 (SUBBED & DUBBED)
Woman Thou Art Loosed (2004)
New Girl (complete series)
Algiers, America (two-episode docuseries premiere)
Love Me (complete season 2)
Dear Mama (two-episode series premiere)
Secrets of the Elephants (docuseries premiere)
Saint X (three-episode series premiere)