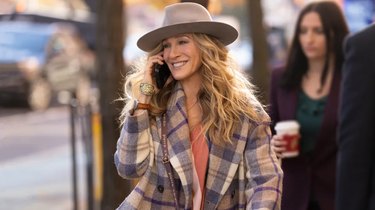 HBO Max has undergone some major changes, the biggest being that the streamer now goes simply by Max. Call it what you will, one thing has remained constant — you're going to be able to watch a boat load of new content each month, and June is no exception.
If the "Sex and the City" sequel series "And Just Like That" gave you all the nostalgic feels when it premiered in 2021, you're probably going to want to add the second season to your watch list. It premieres in June. Also worth checking out is "The Idol," a limited series starring The Weeknd, Lily-Rose Depp, and Dan Levy about an aspiring pop idol and her complex relationship with a self help guru who also happens to be a cult leader.
Take a look at the full lineup below.
Beautiful Creatures (2013)
Dumb & Dumberer: When Harry Met Lloyd (2003)
Eli Roth Presents: The Legion Of Exorcists (Travel Channel)
Fifty Shades Darker (2017, Extended Version)
Fifty Shades Freed (2018, Extended Version)
Little Shop of Horrors (1986)
Martin Lawrence Live: Runteldat (2002)
Monsters vs. Aliens (2009)
Naked.Loud.Proud (Max Original)
National Lampoon's European Vacation (1985)
Never Say Never Again (1983)
Operation Crossbow (1965)
Police Academy 2: Their First Assignment (1985)
Police Academy 3: Back In Training (1986)
Police Academy 4: Citizens On Patrol (1987)
Police Academy 5: Assignment Miami Beach (1988)
Romance on the High Seas (1948)
Sex And The City 2 (2010)
Sunday in New York (1964)
The Blackcoat's Daughter (2015)
The Dead Files (Travel Channel)
The Inevitable Defeat of Mister and Pete (2013)
The Painter and the Thief (2020)
Woodstock: The Director's Cut (1994)
X-Men: Days of Future Past (2014)
Magic Mike's Last Dance (2023)
Painting With John, Season 3 (HBO Original)
Well Designed (Magnolia Network)
90 Day Fiancé: Before The 90 Days (TLC)
Battle on the Beach (HGTV)
The Idol (HBO Original) *4K UHD, HDR 10, Dolby Vision and Dolby Atmos
Louisiana Law (Animal Planet)
Burden of Proof (HBO Original)
Bugs Bunny Builders, Season 1E (Cartoon Network)
Avatar: The Way of Water (2022) *4K UHD, HDR 10, Dolby Vision and Dolby Atmos
Ghost Adventures (Discovery)
American Pain (Max Original)
First Five (Max Original)
Celebrity IOU, Season 4A (HGTV)
How Do You Measure A Year? (HBO Original)
Small Town Potential (HGTV)
Awkwafina Is Nora From Queens, Season 3
Rap Battlefield, Season 2 (Max Original)
Hoffman Family Gold (Discovery)
Meet the Batwheels shorts, Season 1C (Cartoon Network)
The Cabin Chronicles, Season 3 (Magnolia Network)
John Early: Now More Than Ever (HBO Original)
Beachside Brawl (Food Network)
The Great Food Truck Race: David vs. Goliath (Food Network)
The Righteous Gemstones, Season 3 (HBO Original)
We Baby Bears, Season 2A (Cartoon Network)
Street Outlaws: Mega Cash Days (Discovery)
The Stroll (HBO Original)
And Just Like That…, Season 2 (Max Original) *4K UHD, HDR 10, Dolby Vision and Dolby Atmos
Christina On The Coast (HGTV)
Downey's Dream Cars (Max Original)
Rich & Shameless, Season 2A (TNT)
Teen Titans Go!, Season 8B (Cartoon Network)
Mini Reni (Magnolia Network)
Batman: The Doom That Came To Gotham (2023)
Taylor Mac's 24-Decade History of Popular Music (HBO Original)
Rock Hudson: All That Heaven Allowed (HBO Original)
Ten-Year-Old Tom, Season 2 (Max Original)
Warrior, Season 3 (Max Original)
Beachfront Bargain Hunt Renovation, Season 7 (Magnolia Network)