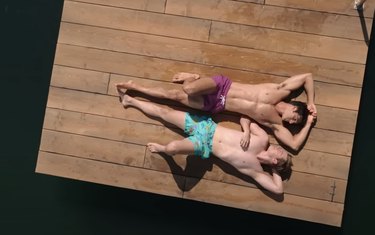 There's always something to watch on Amazon Prime video, and next month will be no exception. You'll be able to check out oldies but goodies, like "City Slickers," "The Goonies," and "When Harry Met Sally," or you can opt for a new mini series like "The Lost Flowers of Alice Hart," which stars Sigourney Weever and Alycia Debnan-Carey and follows a young girl who goes to live with her grandmother on a flower farm after the tragic and mysterious deaths of her parents.
Another one to add to your watchlist is "Red, White & Royal Blue," a new rom-com starring Uma Thurman as president whose son falls in love with a British prince.
Scroll on to see the movies and shows coming to Prime Video in August, as well as all the new content coming to Freevee, Amazon's free streaming service that doesn't require a Prime membership.
A Shot in the Dark (1965)
Braddock: Missing in Action III (1988)
Cahill: U.S. Marshall (1973)
Dead Men Don't Wear Plaid (1982)
Hollywood: The Great Stars (1963)
Me, Myself and Irene (2000)
Missing In Action II: The Beginning (1985)
Paranormal Activity 2 (2010)
Punisher: War Zone (2008)
Steve Jobs: The Man In The Machine (2015)
Support Your Local Sheriff! (1969)
The Black Stallion (1979)
The Day of the Jackal (1973)
The Lincoln Lawyer (2011)
The Many Saints of Newark (2021)
Things To Do In Denver When You're Dead (1995)
Un Padre No Tan Padre (2017)
Valentina's Wedding (2018)
Walking Tall: The Payback (2007)
When Harry Met Sally (1989)
The Lost Flowers of Alice Hart (2023)
Destination NBA: A G League Odyssey (2023)
Destination NBA: A G League Odyssey (2023)
Red, White & Royal Blue (2023)
Harlan Coben's Shelter (2023)
Dungeons & Dragons: Honor Among Thieves (2023)
Wayne Shorter: Zero Gravity (2023)
Everything coming to Freevee in August
Curse of the Pink Panther (1983)
Damsels in Distress (2011)
Death Rides a Horse (1967)
Four Weddings and a Funeral (1994)
Here Comes the Boom (2012)
In the Heat of the Night (1967)
Madea's Witness Protection (2012)
Nanny McPhee Returns (2010)
Penguins of Madagascar (2014)
Revenge of the Pink Panther (1978)
Running with the Devil (2019)
Son of the Pink Panther (1993)
The Adjustment Bureau (2011)
The Lost World: Jurassic Park (1997)
The Magnificent Seven (1960)
The Pink Panther Strikes Again (1976)
The Return of the Pink Panther (1975)
The Wonderful Country (1959)
Trail of the Pink Panther (1982)
Mechanic: Resurrection (2016)