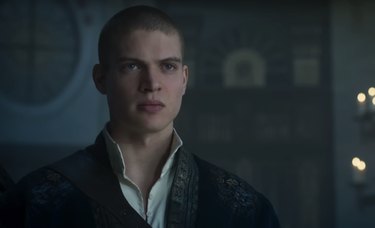 If October sounds like it's going to be a good time to sit around and watch old movies, you're in luck. Amazon Prime Video is bringing on loads of movies from years past, including many scary ones to get your heart pumping for the Halloween season.
You'll also have plenty of TV series to catch up on, including the season two finale of Amazon's "The Wheel of Time." Throwing it back, all 11 seasons of "Frasier" will be hitting the streamer on Oct. 1.
Scroll on for the full lineup coming to Amazon Prime Video next month.
A Fish Called Wanda (1988)
Beethoven's Christmas Adventure (2011)
Bowling for Columbine (2002)
Diamonds Are Forever (1971)
Disturbing Behavior (1998)
For The Love Of The Game (1999)
For Your Eyes Only (1981)
From Russia With Love (1964)
Holiday In Handcuffs (2007)
Jesse Stone: Benefit Of The Doubt (2012)
Jesse Stone: Innocents Lost (2011)
Jesse Stone: Lost In Paradise (2015)
Jesse Stone: No Remorse (2010)
Jesse Stone: Thin Ice (2009)
John Tucker Must Die (2006)
King Solomon's Mines (1985)
Mariah Carey's All I Want For Christmas Is You (2017)
Masters Of The Universe (1987)
Much Ado About Nothing (1993)
My Adventures With Santa (2019)
Nanny McPhee Returns (2010)
Never Say Never Again (1983)
No Sleep 'Til Christmas (2018)
Nowitzki The Perfect Shot (2015)
Nutcracker: The Motion Picture (1986)
On Her Majesty's Secret Service (1969)
Scary Stories to Tell in the Dark (2019)
Scooby-Doo 2: Monsters Unleashed (2004)
Spirit: Stallion of Cimarron (2002)
That's Entertainment (1974)
The Sugarland Express (1974)
The Day After Tomorrow (2004)
The Golden Compass (2007)
The Greatest Story Ever Told (1965)
The Living Daylights (1987)
The Man with the Golden Gun (1974)
The Shop Around the Corner (1940)
The Spy Who Loved Me (1977)
The Wedding Singer (1998)
The World is Not Enough (1999)
Tomorrow Never Dies (1997)
You Only Live Twice (1967)
Teen Titans Go! To the Movies (2018)
Mr. Dressup: The Magic of Make-Believe
Sayen: La Ruta Seca (2023)
Shazam! Fury Of The Gods (2021)
Hot Potato: The Story of The Wiggles (2023)
The Girl Who Killed Her Parents – The Confession (2023)
Book Club: The Next Chapter (2023)
Frasier Seasons 1-11 (1994)
Desperately Seeking Soulmate: Escaping Twin Flames Universe (2023)
Wheel of Time Season 2 Finale (2023)
Tale of the Nine Tailed (2020)
The Greatest Show Never Made (2023)
Everybody Loves Diamonds (2023)
Half + Half Seasons 1-S4 (2003)
One on One Seasons 1-5 (2002)
Zainab Johnson: Hijabs Off (2023)
Sebastian Fitzek's Therapy (2023)