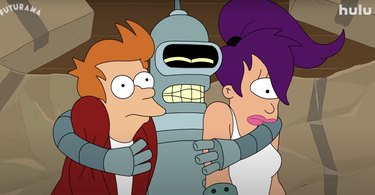 The future is bright over on Hulu next month, mainly because Matt Groening's sci-fi animated series "Futurama" is coming back (again) for another 20 episodes or so beginning in July.
Also hitting the streamer next month is the final season of "Hardy Boys," new episodes of the vampire mockuseries "What We Do in the Shadows," several recent movies, a CMA Fest documentary, and slew of shark content to help you kick of shark week the right way.
Check out the full lineup below.
Beverly Hills, 90210: Complete Seasons 1-2
CSI: Miami: Complete Season 5
Digimon Adventure: 2020: Complete Season 1 (DUBBED)
Dragon Ball Z Kai: Complete Season 1 (DUBBED)
Dragon Ball Z Kai: The Final Chapters: Complete Season 1 (DUBBED)
Dragon Quest: The Adventure of Dai: Complete Season 1 (DUBBED)
One Piece: Episodes 458-517 (DUBBED)
Survivor: Complete Season 42
The Amazing Race: Complete Season 33
Undercover Boss: Complete Season 1
A Good Day to Die Hard, 2013
Alita: Battle Angel, 2019
All the Right Moves, 1983
Center Stage: On Pointe, 2016
Charlie and the Chocolate Factory, 2005
Clive Barker's The Plague, 2006
Die Hard: With a Vengeance, 1995
Don't Tell Mom the Babysitter's Dead, 1991
Essence Festival of Culture 2023: Livestream
Father of the Bride, 1991
Father of the Bride II, 1995
Forgetting Sarah Marshall, 2008
Fun With Dick and Jane, 2005
Get Him to the Greek, 2010
Here Comes The Boom, 2012
The Hobbit: An Unexpected Journey, 2012
I Know What You Did Last Summer, 1997
The Lord Of The Rings: The Two Towers, 2002
The Lord Of The Rings: The Return Of The King, 2003
The Man Who Knew Too Little, 1997
My Super Ex-Girlfriend, 2006
Queen of the Damned, 2002
Rise of the Planet of the Apes, 2011
Scary Stories to Tell in the Dark, 2019
Un Padre No Tan Padre, 2017
What Happens in Vegas, 2008
What's Love Got To Do With It, 1993
Baby Sharks: Special Premiere
Bull Shark Bandits: Special Premiere
Bull Shark vs. Hammerhead: Special Premiere
Camo Sharks: Special Premiere
Counting Jaws: Special Premiere
Game of Sharks: Special Premiere
Jaws Invasion: Special Premiere
Jaws vs. Boats: Special Premiere
Maui Shark Mystery: Special Premiere
Most Extreme Sharks: Special Premiere
Return of the White Shark: Special Premiere
Saved From a Shark: Special Premiere
Shark Attack Files: Complete Season 2
Shark Below Zero: Special Premiere
Shark Eat Shark: Special Premiere
Shark Queens: Special Premiere
Shark Side of the Moon: Special Premiere
Shark Superpower: Special Premiere
Sharkcano: Hawaii: Special Premiere
Sharks that Eat Everything: Special Premiere
Sharks vs. Dolphins: Bahamas Showdown: Special Premiere
Sky Sharks: Special Premiere
When Sharks Attack 360: Complete Season 1
When Sharks Attack … And Why: Complete Season 1
World's Biggest Hammerhead?: Special Premiere
CMA Fest: 50 Years of Fan Fair: Documentary Premiere
Ancient Aliens: Season 18B
Ancient Aliens Special Presentation: Special Premiere
The Ashley Madison Affair: Complete Docuseries
Bleach: Thousand-Year Blood War: Season 1, Part 2 (subtitled)
Zom 100: Bucket List of the Dead: Complete Season 1 (subtitled)
Celebrity Family Feud: Season 9 Premiere
Betrayal: The Perfect Husband: Complete Docuseries
Never Say Never with Jeff Jenkins: Complete Season 1
The Jewel Thief: Documentary Premiere
Court Cam: Complete Season 4
Imagine Dragons Live In Vegas: Documentary Premiere
What We Do in the Shadows: Two-Episode Season 5 Premiere
Drunk Stoned Brilliant Dead: The Story Of The National Lampoon, 2015
Pinball: The Man Who Saved the Game, 2022
The Two Faces Of January, 2014
Justified: City Primeval: Two-Episode Limited Series Premiere
If You Wish Upon Me: Complete Season 1 (SUBBED)
Cold Case Files: Complete Season 3
Flip Wars: Complete Season 2
Escaping My Stalker, 2020
Big RV Remix: Complete Season 1
Praise Petey: Series Premiere
Futurama: Season 11 Premiere
The Hardy Boys: Complete Third and Final Season
The Croods: Family Tree: Complete Season 7
Mother Undercover: Complete Docuseries
Smoking Causes Coughing, 2022
This Fool: Complete Season 2