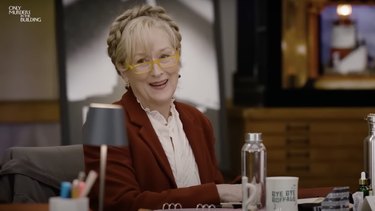 Hulu is adding to its already vast lineup in August, including new movies, TV shows, and originals.
Steve Martin, Martin Short, and Selena Gomez are returning for season 3 of "Only Murders in the Building." Meryl Streep will join the cast, making the show even more epic than it already is.
"Archer" fans will have to say goodbye to Sterling Archer, as the FX animated spy series "Archer" will air the first two episodes of the final season on Aug. 31.
If you feel like catching some older movies you probably haven't seen in a while, you'll be able to do that with movies like "The Punisher," "Practical Magic," "Notting Hill," "The Lincoln Lawyer," and the first three Jurassic Park films.
Scroll on for the full lineup coming to Hulu next month.
FX's Breeders: Fourth and Final Season Premiere
Naruto Shippuden: Complete Season 8 (Dubbed)
A Dangerous Method (2011)
Damsels In Distress (2012)
Enemy of the State (1998)
The Hills Have Eyes (2006)
Hotel Transylvania (2012)
The Lost World: Jurassic Park (1997)
The Lincoln Lawyer (2012)
Love & Other Drugs (2010)
Moscow On The Hudson (1984)
Only Lovers Left Alive (2014)
Punisher: War Zone (2008)
The Pursuit of Happyness (2006)
Simply Irresistible (1999)
Steve Jobs: The Man In The Machine (2015)
Tyler Perry's Madea Goes to Jail (2009)
What's Your Number? (2011)
FX's Reservation Dogs: Third and Final Season Premiere
Farm Dreams: Series Premiere
Demons and Saviors: Complete Docuseries
Beyblade QUADSTRIKE: Season 7B
Wicked Tuna: Complete Seasons 10-11
Only Murders in the Building: Season 3 Premiere
Moving: Seven-Episode Series Premiere
Beautiful Disaster (2023)
Zom 100: Bucket List of the Dead: Season 1 Premiere (Dubbed)
Solar Opposites: Complete Season 4
America's National Parks: Complete Season 1
Dr. Oakley, Yukon Vet: Complete Seasons 1-10
Beach Hunters: Complete Season 4
Blood Runs Cold: Complete Season 1
Bride Killa: Complete Season 1
Cake Boss: Complete Seasons 6 & 10
Cake Wars: Complete Season 1
Container Homes: Complete Season 1
Dessert Games: Complete Season 1
Flea Market Flip: Complete Season 10
Insane Pools: Off The Deep End: Complete Season 1
Man vs. Wild: Complete Seasons 5-6
Murder in Paradise: Complete Season 2
My Strange Addiction: Complete Seasons 1-2
NASA's Unexplained Files: Complete Season 1
Say Yes to the Dress: Atlanta: Complete Seasons 5-6
Toddlers & Tiaras: Complete Season 7
Undercover Billionaire: Complete Season 1
Unexpected: Complete Season 4
Unusual Suspects: Complete Season 7
Enron: The Smartest Guys In The Room (2005)
Miguel Wants to Fight (2023)
Cold Case Files: DNA Speaks: Complete Season 1
The Friendship Game (2022)
War of the Worlds: The Attack (2023)
My Hero Academia: Season 6, Part 1 (Dubbed)
Primal Survivor: Complete Seasons 1-5
Primal Survivor: Escape from the Amazon: Complete Season 1
Primal Survivor: Mighty Mekong: Complete Season 1
Primal Survivor: Over the Andes: Complete Season 1
Yu-Gi-Oh! Sevens: Season 2C
How to Blow Up a Pipeline (2022)
My Fairy Troublemaker (2022)
Jersey Shore: Family Vacation: Complete Season 1
The Conversations Project: Complete Season 1
Lost Treasures of Egypt: Complete Seasons 1-4
Secrets of the Zoo: Complete Seasons 1-5
FX's A Murder at the End of the World: Complete Limited Series
FX's Archer: 14th and Final Season Premiere
The Fault In Our Stars (2014)