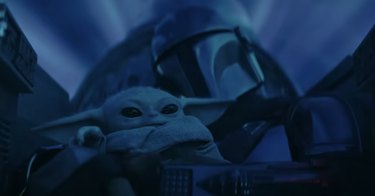 There's no better place to watch Star Wars content, both new and old, than Disney+, and March will be no exception with the third season of "The Mandalorian" hitting the streamer at the top of the month and "Bad Batch" continuing each week.
Also coming next month is new seasons of "Africa's Deadliest," "Secrets of Sulphur Springs," "Doogie Kamealoha, M.D," and all four seasons of the original "Doogie Howser, M.D."
Scroll on for the full lineup coming to Disney+ in March.
Star Wars: The Mandalorian – Season 3 Premiere (Chapter 17)
Star Wars: The Bad Batch (Episode 211 "Metamorphosis")
Africa's Deadliest (S2, S3, S4, S5)
Marvel's Moon Girl and Devil Dinosaur (S1, 5 episodes)
Spidey and His Amazing Friends (S2, 4 episodes)
Star Wars: The Bad Batch (Episode 212 "The Outpost")
Star Wars: The Mandalorian (Chapter 18)
Disney NHL Big City Greens Classic
Doogie Howser, M.D. (S1, S2, S3, S4)
Engineering Connections (S1, S2)
Firebuds (S1, 4 episodes)
Turning the Tables with Robin Roberts – Season 2 Premiere
Star Wars: The Bad Batch (Episode 213 "Pabu")
Star Wars: The Mandalorian (Chapter 19)
Bono & The Edge: A Sort of Homecoming, with Dave Letterman – Premiere
How to Win at Everything (S1)
Kiya & the Kimoja Heroes (S1, 4 episodes)
Restaurants at the End of the World (S1)
Superstructures: Engineering Marvels (S1)
Star Wars: The Bad Batch (Episode 214 "Tipping Point")
Star Wars: The Mandalorian (Chapter 20)
Saturdays (S1, 6 episodes)
Secrets of Sulphur Springs (S3)
Crimes Against Nature (S2)
Disney Junior Mickey Mouse Funhouse (S2, 4 episodes)
Incredibly Small World (S1)
Star Wars: The Bad Batch (Episode 215 "The Summit" & Episode 216 "Plan 99") – Season 2 Finale
Star Wars: The Mandalorian (Chapter 21)
Doogie Kamealoha, M.D. – Season 2 Premiere