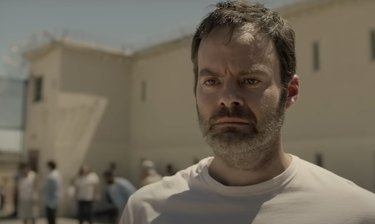 It's unclear if HBO Max is sticking around, if its name is going to change, or if it will eventually disappear forever, but one thing is certain — a long list of new content was just released for HBO and HBO Max, so at least there's that.
In April, you can expect a slew of older movies, including "The Blue Lagoon," "Harriet The Spy," "Ghost," "Talladega Nights: The Ballad of Ricky Bobby," and "Mystic Pizza." You'll also be able to catch new seasons of popular shows like "Barry," "Somebody Somewhere," and the second half of the final season of "Titans."
Check out the full list of movies, TV shows, and documentaries hitting both HBO and HBO Max next month.
The Brother's Warner, 2007
Clean and Sober, 1988 (HBO)
The Cold Light of Day, 2012 (HBO)
City by the Sea, 2002 (HBO)
Dumb & Dumber To, 2014 (HBO)
Enter the Warrior's Gate, 2016 (HBO)
Entertainment, 2015 (HBO)
Evan Almighty, 2007 (HBO)
The Goods: Live Hard, Sell Hard, 2009 (HBO)
Harriet The Spy, 1996 (HBO)
House at the End of the Street, 2012 (HBO)
Hunter Killer, 2018 (HBO)
Kiss the Girls, 1997 (HBO)
Land of the Pharaohs, 1955
The Last Circus, 2010 (HBO)
The Last Days on Mars, 2013 (HBO)
Let's Be Cops, 2014 (HBO)
Letters To Juliet, 2010 (HBO)
A Lion is in the Streets, 1953
The Long Riders, 1980 (HBO)
Noma: My Perfect Storm, 2015 (HBO)
One Missed Call, 2008 (HBO)
The Piece Maker, Season 1 (Magnolia)
Spring Breakers, 2012 (HBO)
The Strawberry Blonde, 1941
Talladega Nights: The Ballad of Ricky Bobby, 2006
Trespass Against Us, 2016 (HBO)
Un Gallo Con Muchos Huevos (aka A Brave Little Rooster), 2015 (HBO)
Walker: Independence, 2023
We Are The Best!, 2014 (HBO)
Whitey: United States Of America V. James J. Bulger, 2014 (HBO)
Craig of the Creek, Season 4E
Looney Tunes Cartoons, Max Original Season 5 Premiere
The Winchesters, Season 1
Music Box: Jason Isbell: Running With Our Eyes Closed (HBO)
Happy to be Home With the Benkos, Season 1
U.S. Women's Soccer vs. Republic of Ireland
Highlights: U.S. Women's Soccer vs. Republic of Ireland
Titans, Max Original Season 4, Mid-Season Premiere
A Black Lady Sketch Show, Season 4 Premiere (HBO)
#BringBackAlice, Max Original Season 1 Premiere
100 Foot Wave, Season 2 Premiere (HBO)
Barry, Season 4 Premiere (HBO)
Para - We Are King (Para - Wir Sind King), Max Original Season 2 Premiere
Bugs Bunny Builders, Season 1D
U.S. Men's Soccer vs. Mexico
Highlights: U.S. Men's Soccer vs. Mexico
Fired on Mars, Max Original Season 1 Premiere
Diary of an Old Home, Season 2
Who's Talking to Chris Wallace?, Season 3
Doctor Who: Power of the Doctor, Special
Somebody Somewhere, Season 2 Premiere (HBO)
The Dog House: UK, Max Original Season 4 Premiere
Love & Death, Max Original Limited Series Premiere
Headless Chickens (Pollos sin cabeza), Max Original
Warner Bros. 100 Years, Max Original Docu Series Premiere