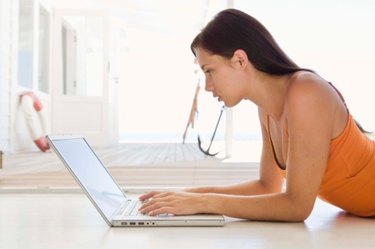 The Sony PCG 7192, part of Sony's Vaio line, combines a laptop's functionality with a desktop's high quality and durability. This means it is not tiny, but it is certainly portable, which gives it a definite edge over most desktop computer systems, particularly for those who travel with their computers often and need something with a hardy build.
Processing
The Sony PCG 7192L, like all computers, processes short-term functions with its random access memory (RAM) and its processor. The processor is a 2.2 gigahertz Intel with a 2 MB cache, and the Sony PCG 7192L comes with 4 GB of RAM installed, with the capacity for a further 2 GB more in the future. This RAM runs at 800 Mhz.
Drives
The hard drive is 320 GB -- enough for over 100 feature-length films. It spins at 5400 revolutions per minute. The DVD drive runs at 8x speed and can both read and write CDs and DVDs.
Other Specs
The Sony PCG 7192L has a 15.5-inch monitor (diagonal measurement) with 1366 x 768 resolution. It also comes with a 1.3-megapixel webcam that can be used for videoconferencing and taking pictures. The keyboard is a standard QWERTY keyboard, while the touchpad is translucent. It weighs 6 pounds, and is 15 inches long by 10 inches wide by 1 inch deep (closed).