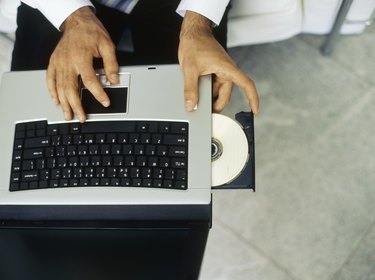 Hewlett-Packard laptop computers generally include a CD/DVD drive built right into your PC. This drive is used to play disc-based games, CDs, and DVDs, and if equipped with a burner, you can use this drive to burn blank discs or rip the contents of a disc to your PC. Opening the DVD drive and accessing its contents on your HP laptop is done the same way as you would on most Windows PCs. All in all, it takes only a few moments.
Step 1
Power on your laptop and wait for it to load up to your Desktop.
Step 2
Click the "Start" button on the taskbar.
Step 3
Click "Computer" or "My Computer."
Step 4
Find the disc drive on the Computer/My Computer menu. Right-click its icon and select "Eject" to eject the drive. It will automatically pop out from your laptop.
Step 5
Insert a disc into the drive and slide it closed.
Step 6
Right-click the drive and select "Open" or "Explore" to run the software or explore its contents.