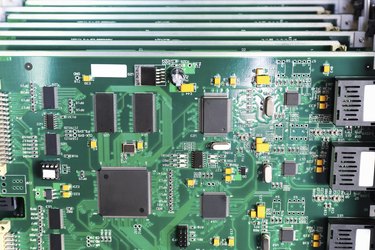 Released in 2005, the Dell OptiPlex GX620 was a business-class computer that came with a variety of processor options, including 64-bit systems. Although the chasis was available in four different designs, each had a GX620 motherboard inside. Nearly a decade later, this model may still be found in some offices today and can be used as a home computer. However, Dell does not support operating system upgrades for the GX620 home computer. Microsoft stopped supporting its Windows XP operating system in April 2014
Chipset
The GX620 supports an Intel 945 Express CPU with 32kb Level 1 cache and 512mb of the critical Level 2 cache. There are CPUs in the Pentium and Celeron classes that will work quite well in this socket.
Memory/RAM
There are four memory connectors on this motherboard which hold 533MHz and 667MHz DDR2 SDRAM memory model. It, being a desktop and not a server motherboard, uses a non-ECC type of memory. It holds a minimum of 256mb single sided RAM or 512mb double sided RAM array. It will accept a maximum of 4gb of memory.
Network Interface
This motherboard has an on-board network jack capable of accepting gigabit, or 10/100/1000 level Internet access. This makes it able to interface with an extremely high speed Internet for a simple, home-use or small business machine.
Video and Audio
The included on-board video is either an Intel Graphic Media Accelerator 950 or a PCI Express x16 graphics card. The on-board sound is the popular AC97, Sound Blaster format. These specifications, for on-board features on a mass-produced product, are above average for its time.
Slots
Being designed for small form factor towers, this board has only one PCI and one PCI-Express slot for expansion. This weakness significantly limits this motherboard's expandability.
Jacks
The GX620 offers one serial port, one VGA port, one Ethernet port and eight total USB ports (two on front, six on back). It also includes audio with three connectors for line-in, line-out, and microphone. It conveniently includes one front-panel connector for headphones as well.
Other Considerations
The on-board connectors include an IDE slot for a primary drive, a 7-pin SATA connector, the standard 34-pin floppy connector, a 12-pin connector for optional second serial port card and a 5-pin fan connector. These motherboards typically operate well with at least a 275 Watt power supply.