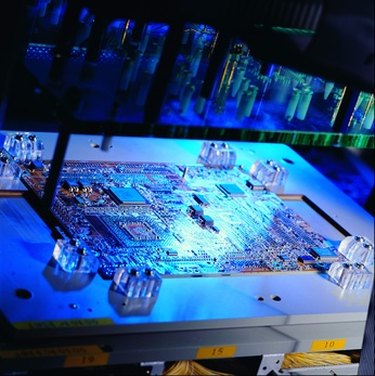 Motherboards are also known as system boards, main boards or planar boards. Motherboard types are named for the type of system they fit into and the kind of processor hosted by the board. Form factor is the term for the physical size and layout of the board.
Form Factor
The Dell E210882 motherboard is an ATX form factor board. This is a desktop system board, used in desktop computers.
Processor
The socket type for the Dell E210882 is LGA775. The board can support Intel Pentium 4 processors with internal speeds of 2.8, 3.0, 3.2, 3.4, 3.6 or 3.8 GHz. Front side bus (FSB) speed for this model is 800 MHz. The FSB is the connection between the memory and the processor and determines the data transfer rate.
Memory
The Dell E210882 system board is compatible with PC2-3200 (400 MHz) or PC2-4300 (533 MHz) DDR2 non-ECC and unbuffered SDRAM. The motherboard has four slots for memory. Compatible capacities include: 128MB, 256MB, 512MB or 1GB. The maximum installable RAM is 4GB.
Drive Bays
This motherboard includes two bays for 1-inch SATA hard drives. The system board also has a floppy drive bay and two CD/DVD-ROM drive bays.