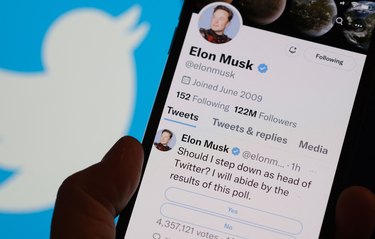 Elon Musk polled Twitter users on Sunday night on whether or not he should step down as the platform's CEO.
Considering the negative feedback he has received as Twitter's CEO, it isn't surprising that the poll results were in favor of Musk stepping down. The poll ended Monday morning, with 57.5% of voters wanting him to step down and 42.5% wanting him to stick around.
Musk tweeted that he would "abide by the results of this poll." So, if that's the case, we can expect a new CEO, and hopefully soon.
Things have been chaotic over at Twitter since Musk took over, to say the least. Users have deleted their accounts in droves, including many celebrities, politicians, and other public figures. On Saturday, Twitter announced a ban on tweets promoting other social media platforms, only to remove the Twitter thread that explained the policy one day later.
"As the saying goes, be careful what you wish, as you might get it," Musk tweeted while the poll was still live, adding: "Those who want power are the ones who least deserve it."
It's pretty wild to think that a person who paid $44 billion for a company would then poll the audience about the future of said company, but it's hard to put anything past Musk. Rumors are circulating, however, that Musk was likely planning on stepping down anyway, with or without the Twitterverse voting in his popularity poll.
Tom Anderson, the c0-founder and face of Myspace responded to Musk's poll with a great point. "It depends on you get to run it."