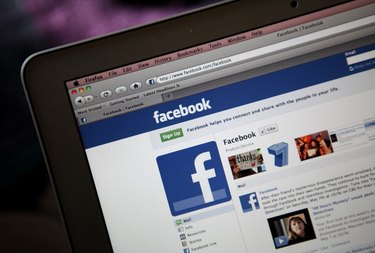 Facebook is a social network where you can store and share updates, photos and other content. As in any other social network, many Facebook users enjoy looking at and displaying statistics and facts about their accounts on the site, such as the length of time their profiles have been active. Although a Facebook profile currently doesn't display the date the user joined Facebook, other ways exist to discover when a person first registered an account.
Step 1
Log in to your Facebook account from the facebook.com homepage.
Step 2
Visit the user's profile on Facebook. If the profile has a custom URL, you can visit the profile by typing facebook.com/customurl in the browser, where "customurl" is the profile's custom Facebook URL. If the profile doesn't have a custom URL, search for the user's first and last name in the "Search" field at the top of the homepage, then click on the profile link in the drop-down list of profiles that appears.
Step 3
Click the "Wall" tab on the left column to visit the user's Facebook Wall.
Step 4
Scroll to the bottom of the user's Wall. If prompted, click the "View Older Posts" tab at the bottom of the page to view additional activity on the user's Wall. Facebook lists a user's recent activity in reverse chronological order so that the first action the user took on the site is last.
Step 5
Continue scrolling down the user's Wall until you reach the very end of the activity feed. It will list "[User's First Name] joined Facebook." Find the date the user joined listed next to this notice.
Tip
If the user has too many status updates and activities listed on his or her wall for you to feasibly scroll through them all and find the start date, or if Facebook changes its settings and layout so that this date no longer displays, you may still be able to get an approximate gauge for when the user joined. Because the Facebook user interface prompts newly registered users to upload photos and make a status update immediately after registering for an account, check the date of the first status update or photo upload to get an approximation of when the user first joined the site.
Warning
If the user has set the profile's privacy settings so that only friends can see Wall posts on the profile and you aren't one of the user's friends, no way exists for you to see when the user first joined Facebook.