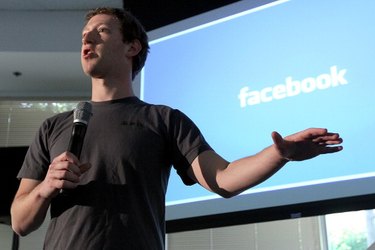 The social networking site Facebook allows users to upload and view one another's photos. A tool called "tagging" also lets users label the individuals who appear in those images. Although Facebook does not have a tool that lets users search for one another's tagged photos, there are several other ways to locate a friend's tagged images.
Photo Application
One way you can search for tagged photos of other Facebook users is by clicking on the "Photos" tab on the left side of your Facebook home page. Once you click on this tab, you will be redirected to the "Photos" page; this is where Facebook catalogs all of the recently uploaded photos of your friends. You will be able to see photos and albums uploaded by your friends, as well as tagged images of your friends that other Facebook users have uploaded on to their profiles. You will be able to distinguish these newly tagged pictures because they will not include an album title -- just the name of the tagged friend and a picture of what looks like a small gift tag. You can only search for tagged photos of your Facebook friends -- individuals with whom you have recognized a mutual connection -- in this way.
News Feed
Recently tagged pictures of your Facebook friends will also appear on your Facebook home page, now called the "News Feed." This feed -- which publishes information like a friend's status update, profile changes or uploaded pictures -- also announces when a Facebook user has tagged one of your friend's in a picture. If you see a tagged picture of your friend published in your News Feed, click on it for a larger image.
Through Friend's Profile
If you want to look at all the tagged photos of a particular friend -- rather than any newly-tagged pictures -- start by searching for that individual. Type the friend's name into the text box at the top of website. Once you arrive at the friend's profile page, click on the "Photos" link under her profile picture on the left side of the page. This page breaks your friend's photos down into two categories. The first category includes pictures and videos uploaded by your friend to the website. The second category -- which is listed below the first -- includes tagged pictures and videos of your friend that another Facebook user uploaded. This second sections will list all the tagged photos of this friend; to see a larger image, click on the thumbnail.
Exceptions
Facebook allows users to choose the privacy level of each of their photos. Not only can you keep certain Facebook users -- including certain friends -- from seeing your uploaded images, you can also restrict individuals and groups from seeing tagged pictures of you. This is done by changing the settings inside the "Privacy" section under the "Account" tab at the top right of your Facebook homepage; different options include allowing only friends or "friends of friends" to be able to view and search for these tagged photos. If you elect not to share these tagged pictures with certain individuals, the photos will not show up in your friends' News Feed, recently added photo section or connected to your profile.