As convenient as a laptop is, using the tiny touchpad or "eraser tip" mouse on most notebook computers can be cumbersome. If you use your laptop for hours at a time, using the built-in mouse substitute can be tiring and make using the computer harder than it needs to be. To enjoy the comfort and ease of use of a full-size mouse with your laptop, add a standard, external mouse to the computer.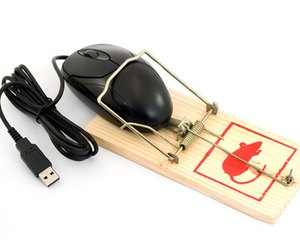 USB Mouse
Step
Insert the mouse cable connector into an empty USB port slot on the laptop.
Step
Wait for Windows to recognize the USB mouse and install the correct drivers to enable it. Windows should automatically configure the mouse and notify you that the new hardware is ready for use on your laptop. Look for the notification in the lower right-hand corner of your screen (near the time and date on the taskbar).
Step
Test the mouse by clicking different icons and links on your computer. Test right- and left-click buttons as well as the scroll wheel if the mouse is equipped with one.
Step
Install the software on the installation CD that was included with the USB mouse if applicable. The software is not required to use your mouse in Windows; however, the utility program allows you to customize settings for the mouse and create special button assignments and shortcuts.
PS/2 Mouse
Step
Power-off the laptop before installing a PS/2 mouse. Windows cannot detect PS/2 mice on the fly the way it can with USB models. Plug in the mouse before booting your laptop. If your laptop does not have a PS/2 port, connect the mouse to a PS/2 to USB adapter. Then, insert the adapter into a free USB port.
Step
Turn on the laptop and log on to Windows.
Step
Wait for Windows to detect your new PS/2 mouse and configure it for use. The "Add New Hardware Wizard" should configure the mouse automatically; however, in some cases, the system may prompt you to insert the installation CD. If prompted for the installation disc, insert it into the CD/DVD drive, close the tray and press the "Enter" key.
Step
Test the mouse after Windows completes the installation of the mouse driver software.
Step
Install the utilities from the installation CD to create custom settings for the buttons on the mouse or enable other special features, if the mouse supports these options.