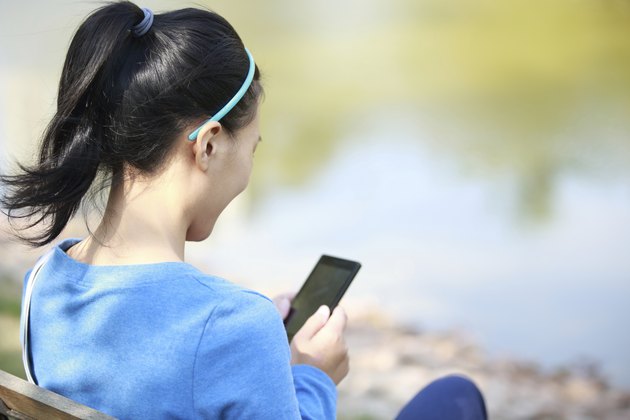 Your smartphone is as useful at helping you discover new music and expanding your playlist as it is for simply playing music you already own. Shazam was one of the first apps on the market that allowed you to use the phone's microphone to record a small part of a song that is playing wherever you are and the app told you the song title, artist, album and a link to purchase the song. There are plenty of alternative apps that perform a similar role, although not all apps will work on all platforms.
Soundhound
Soundhound is able to record a portion of a song you hear being played around you and match it to the song's title, artist and album. There are versions of Soundhound available for free for iPhone, Android, Windows Phone and BlackBerry. There are also paid versions to remove advertisements from the screen. Once the app is downloaded and launched, just tap the "SoundHound" logo to make it begin recording an audio sample. Once the song is identified, the screen displays the song's title and artist along with other information. You are also given a direct link to purchase the song and links for other streaming music services; if available, the song's lyrics will scroll on your screen.
Musixmatch
Musixmatch is another popular alternative to Shazam that offers the same level of functionality with a clean user experience. Musixmatch is available for iOS, Android and Windows Phone. Like Shazam and Soundhound, Musixmatch can quickly identify the song title and artist and give you links to purchase the song. The lyrics are available easily as well.
Platform Specific Apps and Online Alternatives
In addition to the above popular alternatives, there are other apps that may work only on iPhone or Android devices. For instance, Sound Search for Google Play only works on Android devices, but will provide a similar experience to the other apps. There are also some apps that work directly on a Windows machine or a Mac computer which allow you to analyze an audio file you already have. In addition to the computer-based applications, there are some online Web-based apps that allow you to upload a file for identification.
Primary Differences
The primary differences between these music identification apps are user interface and identification accuracy. Depending on the quality of the audio you are able to record, some of the apps may perform better at identifying the song you want. Not all apps have the same song libraries, so some may be better at identifying older songs.