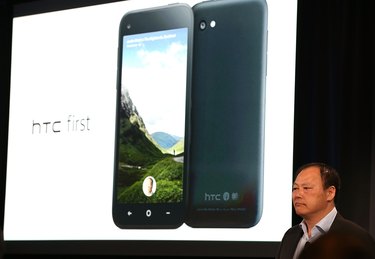 Whether your phone's built-in memory is overflowing with videos or you want to transfer all your photos to your PC, you have a few options for connecting an HTC Android device to your PC. HTC-made devices support HTC's Sync Manager program that provides functionality the competition doesn't necessarily offer. You do not need to install additional software to connect HTC devices to PCs, but you do need to install software to use the sync tools.
HTC Sync Manager
Step 1
Download and install the HTC Sync Manager software from HTC's website (see Resources). Launch the HTC Sync Manager after completing the installation to prevent the HTC device from going into USB storage mode.
Step 2
Connect your HTC device to the PC using a micro-USB cable. Wait for the HTC Sync Manager to recognize the connected device.The default Overview page displays device data usage by media type.
Step 3
Click the "Music" tab and select music playlists to import from the window. HTC Sync imports content based on pre-configured playlists you've made in iTunes and Windows Media Player. Change the Sync slider to "On" to sync selected music.
Step 4
Select the "Gallery" tab to transfer your pictures from the phone to the PC. Check the box next to "Copy Device Camera Shots to PC" and change the Sync slider to "On" to begin the transfer.
Tethering a PC With an HTC Device
Step 1
Install and update the HTC Sync Manager to the latest version on your PC. The updates will ensure that you're running the latest drivers.
Step 2
Tap "Settings | More | Mobile network sharing | USB network setting | USB tethering."
Step 3
Connect the HTC phone to the PC via USB cable; the PC automatically configures itself. The process does not work if the phone is missing the SIM card.
Connecting With Stock Software
Step 1
Connect your HTC device to the PC using a micro-USB cable. The process may stall for a few minutes as the HTC device installs required drivers on the PC.
Step 2
Select the "Disk drive" option on the HTC device if the device prompts you to select a connection type. Devices like the HTC One V only enable data transfers from an installed micro-SD card. You can copy files from the device's built-in memory to the SD card using the "My Files" app. Models like Amaze and Rezound disable apps that use the SD card when connected to a PC.
Step 3
Launch File Explorer on the PC and access the HTC device through the This PC window. Transfer files between the PC and HTC device using File Explorer on the PC as when working with an external HDD.