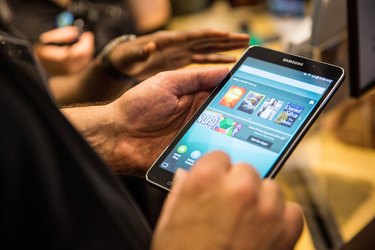 Samsung's Galaxy Tab tablet line offers several options for watching movies and other videos ranging from storing video files on the device to streaming online content from apps. While the Galaxy Tab shares similar movie watching options as do other Android devices, the Kies data transfer service is exclusive to Samsung devices, and SD card support is not guaranteed on other models. As of publication, the current Android version is 4.4 KitKat.
Watching with the Video App
You can watch any compatible movie video files stored on a Galaxy Tab's built-in memory or installed memory card by launching the Video app from the Home screen. The Video app scans the local memory for video files stored in the MPEG-4, 3GPP, MPEG-TS, WebM and Matroska formats and displays them in the menu. Just tap the desired movie to start playing. The Galaxy Tab line supports the pop-up player which, when activated, lets you run the video player on top of other apps.
Transferring Videos from the PC
You can transfer movie files from your computer to your Galaxy Tab for playback in the Video app in multiple ways. You can use the Samsung exclusive Kies app and computer program to handle the data transfer over Wi-Fi. In order to use Kies, install the desktop client on your computer and connect both devices to the same Wi-Fi network. However, if Kies isn't an option, you can directly connect the Galaxy Tab to a PC with a micro-USB cable and transfer files using File Explorer. If your computer has an SD Card reader, you can copy movie files to an SD card and install that card in the Galaxy Tab.
Watching via Streaming Apps
While you can store movies on the Galaxy Tab, the files can get very large and chew up your storage space in very little time. Instead, you can opt to stream movies to the device over the Internet through free and premium apps. Some free apps available in the Google Play Store include Dailymotion and Twitch.tv. The YouTube app also lets you stream movies and other video content free of charge and comes pre-installed on Galaxy Tab devices. You can access thousands of movies for streaming with premium apps like Netflix and Hulu -- however these both require monthly fees. Note that streaming can be limited by available Internet access and data limits.
Watching in Chrome
You can watch streaming movies and video content through the Galaxy Tab's built-in Chrome browser. Chrome supports video playback online through sites that use compatible video formats. For example, you could watch video on the YouTube mobile site or catch a local news station's streaming webcast. In the same way as apps, streaming in Chrome suffers from Internet access and data limits. Android devices including the Galaxy Tab line dropped support for Flash video and Flash content in version 4.1.