Motorola Droid smartphones use Android versions 2.3 through 4.1, and, beginning with version 3.0, by default Android uses Media Transfer Protocol rather than USB mass storage. However, all Android phones support USB mass storage; to prevent data loss when using this feature, turn it off before disconnecting your phone from a computer.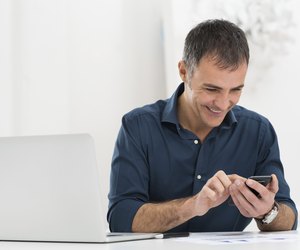 credit: Ridofranz/iStock/Getty Images
MTP vs. USB Mass Storage
Unlike a USB mass storage device, an MTP device has access to its file system while connected to a computer and doesn't need to be ejected before it's disconnected. In Android versions 3.0 and higher, open the Settings menu, choose "USB Utilities" and turn off USB storage to use MTP instead. Because earlier versions don't support MTP, you can't permanently disable USB mass storage on older devices, but you must still turn it off before disconnecting your phone from your computer.
Disconnecting a USB Mass Storage Device
In Windows, right-click your device in File Explorer and choose "Eject." After a few seconds, Windows displays a notification bubble telling you it's safe to disconnect your device. On your Droid, slide down the notification panel and tap "USB Connected" to turn off USB storage. Your phone's internal storage, including apps stored on the SD card, becomes accessible again. To use this storage without ejecting your device and disconnecting the USB cable, simply tap "USB Connected" on your phone without clicking "Eject" in Windows. Before transferring files between your phone and computer, tap "Connect USB Storage" to turn USB storage back on.