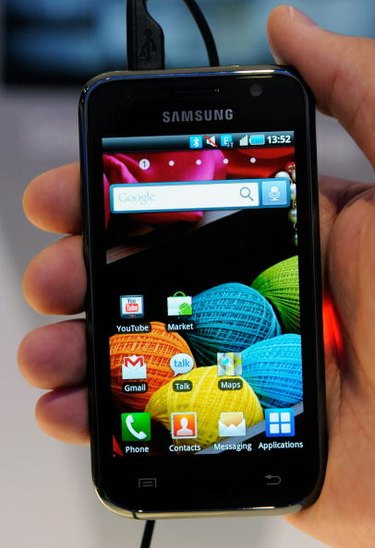 Music, movies, photos and more can be stored on the micro Secure Digital memory card on your Samsung Galaxy S phone. To get all those goodies on the microsSD card you need to transfer them from your computer. Connecting your Galaxy S to your computer is done with the USB cable that was included with the phone and doubles as the charging cable when plugged into the outlet adapter that also came with the phone.
Step 1
Plug the large end of the micro USB cable into your computer and the small end into the USB port on the top of your Galaxy S phone. Wait for your computer to recognize the phone.
Step 2
Press the "Power" button on the top right side of your phone, briefly. Unlock the phone by dragging the padlock icon to the top of the screen.
Step 3
Drag the notification pane down by touching the top of the screen and dragging your finger to the bottom. Touch the "USB Connected" notification and then press the "Mount" button. Your phone's microSD card will appear to your computer like an external drive.
Step 4
Click on the "Start" button on your computer and then click on "Computer." Double-click the drive icon that corresponds to your Galaxy S phone. This will open a folder that shows the contents of your phone's microSD card. You can copy files to and from the folder like you would any other folder on your computer.
Step 5
Click the "USB Device" icon in the task tray of your computer. Click "Eject USB Device." Wait until you're done transferring files before ejecting the phone from the computer.
Step 6
Unlock your phone and drag down the notification area. Tap the "USB Connected" notification and press "Disconnect." You can now safely unplug your phone.