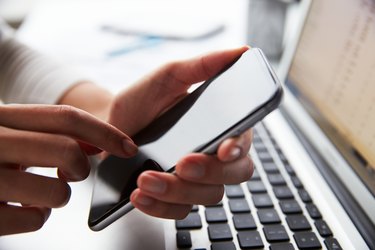 Many of today's cell phones no longer just include basic calling features--they have become interactive, multimedia devices that allow you to play back music on the go, among many other features. Many include larger memory chips that allow you to upload music in different formats (e.g. MP3, WMA).
Like any desktop computer, transferring songs to a cell phone using a laptop is a simple process. Within no time, begin enjoying your favorite tunes without additional complicated hardware.
Step 1
Connect your phone to the laptop using the supplied USB cable. You should hear a sound stating that the computer has detected the phone as a removal device.
Step 2
Click the Windows "Start" button and click "My Computer." You should see your phone listed as a removal device together with other removal devices on your computer. The phone is assigned a drive letter (e.g. J:, D:, K:) which varies depending on your computer.
Step 3
Double-click your phone. You should see the music folder. Double-click it to open the window.
Step 4
Locate the song you want to transfer to your cell phone and right-click it. Click "Copy." Go back to the opened Music folder window and right-click an empty spot. Click "Paste" to transfer the song to your cell phone. Different phones support different audio formats (e.g. MP3, WMA, AAC). Refer to your phone's manual for the correct format to transfer.
Step 5
Repeat step 4 to transfer additional songs on your cell phone. Close the Music folder window when you are done.
Step 6
Safely disconnect your phone from the laptop by clicking the "Safely remove hardware" icon on lower right of the system tray. Select the drive letter corresponding with the cell phone and click "Stop." Disconnect the cell phone from the computer when the pop-up message instructs you to do so.