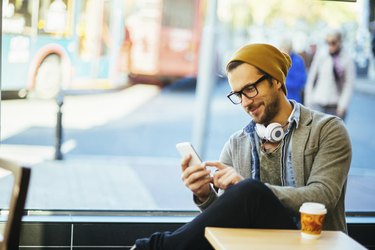 Many of the Kyocera phones come with built-in media players that allow you to play your favorite MP3 music on the go. You can upload your favorite bands, genres and songs. This feature can come in handy in many different situations, including the gym, long trips or going for runs. Using your computer, you can download music to your phone in minutes using these simple guidelines.
Step 1
Select "Menu" on your phone and select "Settings." Select the "Mode Setting" and select "USB Storage Mode."
Step 2
Connect your Kyocera phone to your computer using your USB cable. Double-click "My Computer" or "Computer" on the desktop. Locate your phone in the "Drives" section, listed as a removal disk, and double-click it. A new window launches.
Step 3
Locate the "Music" folder and double-click it. Drag music files from your computer and drop them into the Music folder. Close the Music folder when you finish and click the "Safely remove hardware" icon on the taskbar. Click your phone's removal disk in the hardware window that launches and click "Stop." When prompted, disconnect your phone from your computer.