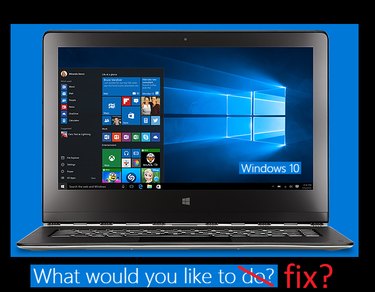 Upgrading to a new operating system is exciting and, occasionally, fraught with issues. If you recently installed Windows 10, you may have noticed that some things aren't working as they should be (and that's after accounting for the known bugs Microsoft is currently working to fix). Here are five common issues people are facing after upgrading to Windows 10, and some effective solutions.
Wi-Fi Troubles
After you upgrade to Windows 10, you may notice that your Wi-Fi connection is unstable – or not working at all. Right now it's not clear exactly what's causing this, but the simplest solution seems to be disabling Windows 10's new Wi-Fi Sense feature, which makes it easier to connect to Wi-Fi networks around you. To do this, go to Settings > Network & Internet > Wi-Fi > Manage Wi-Fi settings and turn off Wi-Fi Sense, including Connect to suggested open hotspots and Connect to networks shared by my contacts .
Missing Bookmarks in Edge
Your favorites from Internet Explorer (or other browsers) may not have ported over to Windows 10's new Microsoft Edge browser when you installed the OS. To get them back, open up Edge, click the … button in the upper right corner and go to Settings > Import favorites from another browser. Choose the browser you want to import your favorites from, click Import, and your bookmarks should appear.
Can't Download Apps
If you're having trouble downloading apps – say, you open the Windows Store, try to download an app, and it fails to acquire a license – you might be able to fix the problem by running WSReset, a troubleshooting tool that resets the Windows Store without messing with your account settings or deleting apps. To do this, open Run (use the keyboard shortcut Windows key + R), type "wsreset" and hit the Enter key. The Store will open, and you can try to download the app again. You may also need to reboot your PC after running WSReset.
Nvidia Driver Problems
Enough people have had display issues after installing Windows 10 that Nvidia issued a driver fix on July 29. If you have an Nvidia graphics card and your display is crashing, or games and videos aren't playing smoothly, you can manually download the new driver from Nvidia's driver website.
To find the latest driver (version 353.62) for your graphics card, use the Manual Driver Search tool to input your driver and PC specs. Once you've downloaded the correct driver, right-click the file and click Run as Administrator to open the installation wizard. You'll need to reboot your PC after installing the new driver.
No Sound
Noticing an eerie silence from your newly-upgraded Windows 10 machine? You may need to change the bit rate settings. To do this, right-click on the sound icon in the taskbar and go to Playback Devices. Double-click the playback device (meaning your speakers) you want to configure. This opens the Properties window.
Go to Advanced > Default Format and change the bit rate to either 24 bit, 44100 Hz or 24 bit, 192000 Hz and click OK.