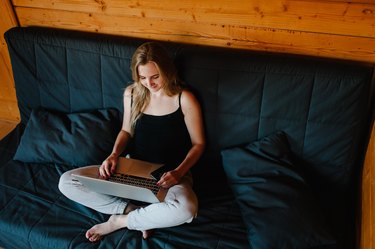 Your computer contains a treasure trove of information about you. You use it for everything from communicating with family to monitoring your bank balance. If someone gets into your system, that person can steal your account information, passwords, photos, videos and more. Fortunately, software is available to check for whatever spyware your Mac has on it.
Check for Spyware on a Mac
Historically, malicious software targeted Windows computers due to its large user base. However, in recent years, hackers have increasingly set their sights on Mac computers, and spyware has been particularly popular. In most cases, Mac users encounter spyware that steals passwords or captures keystrokes.
If you suspect your Mac has spyware on it, there's likely a good reason. Maybe your system is responding more slowly than usual, or you recently clicked on a strange link. You may have read about spyware and wondered if your system has it. Whatever the case, there are ways to detect and repair the problem.
One of the best methods for detecting spyware is to have anti-virus software installed on your Mac that continually monitors for suspicious activity. When you suspect something might be wrong, you can run a full system scan and clean up any issues, However, you can check a few basic things on your Mac before downloading anti-virus software.
Manually Check Activity
You don't have to put resources and energy toward software to check your Mac for suspicious activity. There are some indications you can search for on your own. The first step is to click on the Apple logo in the top left corner of your Mac's screen and select Recent Items. The items listed here should be the last items you accessed. If not, you have a problem.
You can also check recent folders and your browser history to see if anything looks unfamiliar. After you do that, press Command + Space to open Spotlight or Siri Search and search for Console. In the Console window, click All Messages and type "wake" in the search field to see any efforts to wake your computer while it was locked or in sleep mode and the time they happened.
Automatically Check for Spyware
Mac software developers created tools to help out when you think your system has spyware. There are plenty of options, but it's crucial to find a tool that can locate spyware and stop it in its tracks. You can find some free applications, although you may have to pay for premium features.
Search the Mac App Store for "anti-spyware" and download one of the many available applications, such as Antivirus One, Antivirus Zap, or Antivirus BitMedic, or go directly to the websites of the makers of Malwarebytes or CleanMyMac X and download the application.
After you thoroughly clean your device with the downloaded software, change all your passwords and possibly contact your financial institutions. They'll need to know that your account numbers may have been compromised. If you believe your camera was hacked or that videos, photos or other items were stolen, a call to local law enforcement may be a good idea.
Prevent Spyware on Your Mac
Whether you find spyware on your device or not, the best thing you can do is put measures in place to prevent it in the future. Malware protection can help with that by monitoring your system for suspicious activity. You can also keep yourself safe by being careful when clicking links or downloading attachments sent to you via email or text message. Even if a message looks legitimate, go directly to the site in question rather than clicking any links it contains.
Some features are included with your Mac to keep your system safe. Click on the Apple icon in the top right corner of the screen and select System Preferences > Security & Privacy > General. There, you can limit the sources allowed to download software to your computer. Make sure you only allow apps from the App Store and identified developers, to keep unauthorized software from downloading without your permission.