Despite advances in computer security, your computer can be spied on in a number of ways regardless of what operating system you use. If you suspect your Mac has some malicious tracking applications, keyloggers or other spyware, you can find out by checking your applications list, checking active processes on your Mac and scanning your computer using free anti-spyware programs.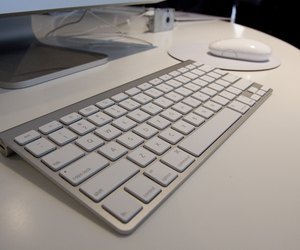 credit: David Paul Morris/Getty Images News/Getty Images
Step
Scan your computer using a program designed to find malicious applications on your Mac, such as MacScan or ClamXav. This is a basic way to check your computer for any tracking or spyware applications. These scans cover all the files on your computer, so they will take some time to complete, but they are useful for finding harmful applications, especially if you're not entirely computer savvy.
Step
Open your "Applications" folder and look through the list of applications on your computer to see if there are any you don't recognize. Many applications can be hidden in system folders, but some rely on the idea that a person won't go actively searching through their programs list to find anything they don't recognize. If you find anything you don't remember installing and that looks suspicious, uninstall it by dragging its icon to the Trash icon on your desktop.
Step
Open the "Activity Monitor" application, which you can find under the Utilities folder of your Application folder, to view the processes that are currently running on your Mac. This is like Windows' Task Manager; it shows a list of all processes that are currently in use. Look through the list to see if there are any names that look suspicious or you are unfamiliar with. If you see any you don't recognize, try looking up the name using a search engine to see what it is. If you find any that are malicious in any way, you can also find instructions on how to remove them. What is important, however, is that you immediately stop the process by right-clicking its name once, then clicking "Quit Process" in the upper-left corner of the window.
Step
Secure your computer by completely wiping and reinstalling the operating system after performing a basic backup of your files. By wiping your hard drive and reinstalling from scratch, you almost guarantee that any malicious applications will be gone when you are set up again. If you don't feel comfortable relying on anti-spyware programs or searching it out yourself, this is the best way to be safe.