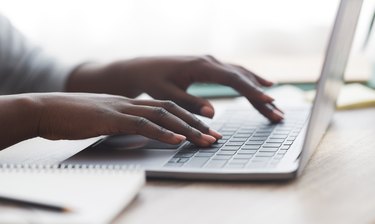 If you notice that your computer seems to run slowly, you get error messages about drivers, or certain hardware doesn't seem to work, you could have a problem with outdated drivers. You can usually check for common driver updates through Windows Update and Mac's Software Update.
Windows users can also turn to third-party driver management tools or check for drivers manually through Device Manager, while both Mac and PC users can get information about specific driver updates from the manufacturers who make hardware such as computer mice, graphics cards and audio devices.
Checking for Windows 10 Drivers
When you want to check drivers for your Windows 10 computer's graphics card, network card or motherboard, running Windows Update is an excellent place to start. This tool is in the Settings app under the Update & Security option. If your system isn't up to date, you should see a button to check for updates. Select it to list any updates found, including drivers and security patches. Then, download and install them.
You can also check devices manually for driver updates through the Device Manager tool found in the Control Panel. This tool lists all your PC hardware and has expandable categories. Right-click a specific piece of hardware and choose Update driver to see an option to search for new updates. Windows lets you know whether it found an update and installs a new one if available.
Checking with the manufacturer directly can inform you of outdated drivers. For example, your video card may have a utility installed that you can open and find an option to check for driver updates. If you can't find one, look for the help or updates section of the manufacturer's website to see if it posted any recent upgrades to download and install. When you're seeking a driver update due to a technical issue that you're facing, consider contacting the manufacturer online or by phone for additional help.
Because Mac computers use standardized hardware, checking for outdated drivers typically takes little work. While you might need to install a driver occasionally for third-party hardware, checking for driver updates usually only requires running the Software Update tool found in System Preferences. This action informs you of all updates available for your system, and you can confirm the installation and get any new drivers needed for your Mac's hardware.
If you have an issue with a third-party device, check the maker's website. You should find a section for Mac support that lists current drivers available and instructions. Updating a Mac driver manually usually takes running an installation file as you would when installing a new program, but you may need to go into your Mac's Security & Privacy settings in System Preferences to allow installations from sources other than the Mac App Store.
Check for Driver Updates Automatically

Whether you use macOS or Windows, you can save time by keeping your drivers updated automatically. You can do this through your operating system's settings as well as through third-party tools.
If you haven't already configured your computer to automatically download and install operating system updates, doing so causes your computer to check frequently for new drivers alongside other items. Mac users select the Automatically keep my Mac up to date option in the Software Update system preferences. Windows 10 usually has automatic updates configured by default, but you can go into Windows Update and select Advanced Options to make sure you didn't put a pause on updates for a specific period.
Windows users can also try driver update tools like Driver Booster to identify outdated drivers and download the newest ones from the device's manufacturer. For example, this software might do a scan and tell you that you need an Intel driver update. Updating the driver takes just a single click, so such tools can come in handy when you have a lot to update.