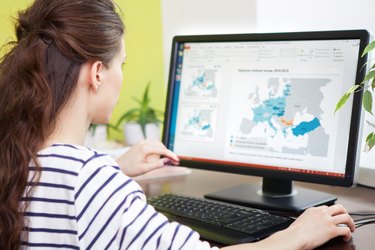 In a computer, every hardware device that is installed requires a device driver--a piece of software code that essentially "explains" to the computer how to control the device. Hardware manufacturers frequently update the drivers for their devices to improve their performance and compatibility with new hardware that is brought to the market. Check your PC for bad or outdated drives to keep it performing its best.
Check for Driver Problems
Step 1
Hit the Windows logo and "R" keys simultaneously to bring up the Run dialog box.
Step 2
Type "devmgmt.msc" without the quotation marks into the box, and hit "Enter." This launches the Device Manager.
Step 3
Scan the list for any items with a yellow exclamation mark superimposed. This indicates that your computer does not know how to handle a device that is installed because no drivers are present or the driver is incorrect. If you do not see any, the device drivers for the hardware in your computer are installed correctly. However, they may still be out-of-date. Continue to Section 2 to check this.
Check for Outdated Drivers
Step 1
Go to the DriverAgent website using the link in the "Resources" section of this article. Click the button labeled "Start Download Now" and save the file to your desktop.
Step 2
Double click "driveragent-setup_486.exe" to install DriverAgent. Click "Run" if a warning dialog appears asking you to confirm that you want to run the program.
Step 3
Click "Next," then read the license agreement for DriverAgent. If you agree, click the "I accept the agreement" radio button and click "Next."
Step 4
Decide whether you would like a desktop icon for DriverAgent, and whether you would like to install the Yahoo! Toolbar. Click "Next," then click "Install."
Step 5
Click "Start DriverAgent." DriverAgent will poll your system for a list of installed drivers, then check for available updates. You will then be shown a list. Good drivers are indicated by green check marks, and bad drivers are indicated by a red "X" icon. If a driver is listed as "bad," it means that an update is available from the manufacturer.
Tip
The process for updating a driver may differ slightly depending on the driver that needs to be updated. However, in most cases the fastest way is to visit the manufacturer's website and look for a "Support" or "Downloads" link, then enter the model name or number for your device. The driver will usually be an executable file that must be double-clicked to be installed. DriverAgent is one of many programs that are available to scan the drivers on your computer automatically. DriverAgent is free to use but will not download updated drivers for you unless you purchase the software. However, it will alert you when a driver is out-of-date, allowing you to visit the manufacturer's website directly and download the latest drivers. Other software designed to check drivers automatically may have features differing from those described here.