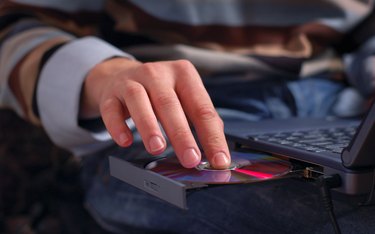 Whether it's the physicality of owning an actual disc or just the money that's tied up in an existing movie collection, many people still like to own their movies in DVD form. If you're one of them and you're thinking of upgrading to Blu-ray or Ultra HD Blu-ray, relax: You'll still be able to play your DVDs.
The Case for a Physical Disc
You can usually find anything you want on one or another of the on-demand streaming services, but there's a case to be made for owning a disc. Some content is rare and hard to find. Corporate mergers mean that even popular favorites might disappear from your streaming service overnight after a change of ownership or licensing rights.
Discs are also great for times when your ISP or a streaming site is down or for entertaining a roomful of kids without giving them the option of finding things for themselves online. They also give you a practical way to store your photos and videos for the long term. Discs last up to 50 years, but video stored in the cloud can be gone tomorrow if your service provider is hacked or goes out of business.
Blu-Ray vs. DVD Player
There are still plenty of DVD movies out there and inexpensive DVD players to play them on, but they're best left to places like rec rooms and kid bedrooms where the TVs are older and low-end.
A Blu-ray player gives you the best video quality on a standard high-definition TV at up to 1080p resolution, and an Ultra HD model pushes a state-of-the-art 4K television to its highest levels of quality. None of these is an either/or decision. A Blu-ray player can play all your older DVD movies and audio CDs, and an Ultra HD player plays standard Blu-ray movies as well as DVDs and CDs.
How the Technology Works
All optical discs work in much the same way. When the disc is written, its surface is dotted with microscopic pits and bumps, which serve as the 0s and 1s used in digital data storage. CDs and DVDs used a red laser to read and write. Blu-ray discs use a blue laser with a shorter wavelength, which gives it a tighter beam. This lets you put more information in the same space, like writing with a fine-tipped pen instead of a fat felt marker.
For compatibility with older discs, Blu-ray players come with both a blue laser for reading high-definition content and a red laser for older DVD and CD content.
Test for Compatibility
Although every Blu-ray player should be able to handle older content, some are better at it than others. You shouldn't have any problems with commercial discs that are physically in good shape, but playback issues are possible with older or home-burnt discs.
Your best bet is to actively test any models you're thinking of buying. If you want to know the best Blu-ray player for CD playback, for example, online reviews are helpful, but it's even better to head over to your local retailer with a handful of CDs and try it yourself.
If you've used more than one machine over the years to burn your CDs or DVDs, take some from each machine to be thorough. You should also play multiple tracks, skip backward and forward, and try fast-forward and reverse.
Buy for Features
After you're confident they can play all your discs, choose a specific player based on its features. A Blu-ray player with Wi-Fi can turn any TV into a smart TV, for example, and gives you the option of streaming the content you don't own. Most can also upconvert standard-definition DVD content for high-definition TVs or HD content for Ultra HD televisions with 4K screens. As with any purchase, decide which features are crucial and which are just nice to have and make your choice accordingly.