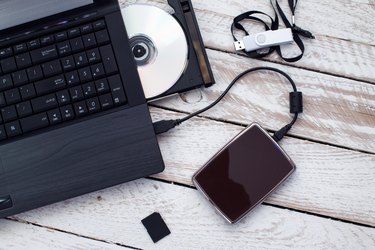 Optical storage devices store and read data using light, often recording information on what's called an optical disk. The most common types of optical storage devices are drives that read and write CDs, DVDs and Blu-ray discs. Scientists continue to research ways to pack more data onto discs that can fit into a compact space.
Optical Storage Definition
Optical storage refers to recording data using light. Typically, that's done using a drive that can contain a removable disk and a system based on lasers that can read or write to the disk. If you've ever used a DVD player to watch a movie, put a CD in a player to listen to music or used similar disks in your desktop or laptop computer, you've used optical storage.
Compared to other types of storage such as magnetic hard drives, the disks used in optical storage can be quite inexpensive and lightweight, making them easy to ship and transport. They also have the advantage of being removable, unlike disks in typical hard drive, and they're able to store much more information than previous types of removable media such as floppy disks.
One downside of optical disks is that they can become scratched, giving some drives difficulty writing them, although drives and the software they work with do include error-correction systems designed to prevent data loss in such circumstances.
Types of Optical Storage Devices
Among the most familiar types of optical storage devices are the CD, DVD and Blu-ray disc drives commonly found in computers. Initially, many of these drives were read-only, meaning they could only access data on already created disks and couldn't write new content to existing or blank disks. Still, the read-only devices called CD-ROM drives revolutionized home and business computing in the 1990s, making it possible to distribute multimedia material like graphically rich games, encyclopedias and video material that anyone could access on a computer. Now, most drives can both read and write the types of optical disks they are compatible with.
Disks are available that can be written once, usually marked with the letter "R" as in "DVD-R," or that can be written multiple times, usually marked with the letters "RW." Similar drives are also found in most modern home video game consoles in order to read game software. Drives in computers and gaming systems can typically play movies and music on optical disks as well. Make sure you buy disks that are compatible with your drives and players.
Standalone players for audio CDs and TV-compatible players for Blu-ray discs are also widely available. Drives and players for older formats like HD-DVD and LaserDisc are still available as well, although they can be more difficult to find.
When Other Storage Is Used
Hard drives are still used in many computers for situations where data must be read and written quickly. They're typically faster than optical drives and easier to edit in particular parts.
Other magnetic-based media are still used as well, notably tape drives used for archival purposes. They can be slow to operate but can also hold enormous amounts of data and are also still used for situations like backing up data from corporate networks.
USB sticks, which contain flash memory that can be swiftly written and read, have also begun to replace optical devices for transporting data in many circumstances. The internet has also cut into the demand for optical storage devices and media, since while for a time computer software, music, movies and video games were typically delivered via optical disk, they're now at least as likely to be sold or rented digitally online.