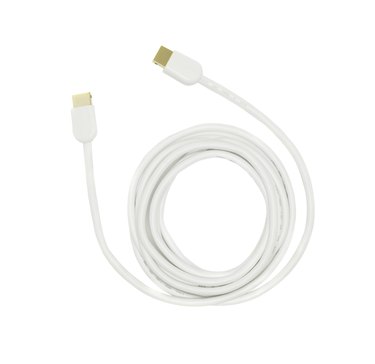 Video files are frequently viewed on a computing device, such as a laptop or desktop computer, after the file has been transferred from another USB-equipped device, such as a digital camcorder. You can also watch a video file on one device while it's streamed from another device through a USB connection. At the time of publication, USB technology exists in three forms, each of which transfers data at different rates.
USB Technology
Universal serial bus technology came onto the scene in 1996 with the introduction of USB 1.0. Initially used on only a limited number of computers, with the arrival of Apple's iMac in 1998, the technology gained wider interest. USB 2.0 was introduced in 2000, and 3.0, in 2007 is the newest and fastest USB technology available. While most computers contain non-USB ports that are designed to link to other peripheral devices, such as modems and power outlets, USB ports are distinguished by their rectangular shapes. Non-USB ports come in different shapes, such as circular and trapezoidal.
Data Transfer Rates
The USB 1.0 standard, which includes the USB 1.1 protocol, transfers data at up to 12 megabits per second,comparable to DSL speeds. Streaming video over a USB 1.0 or USB 1.1 standard connection is also subject to the choppy or stop-and-go playback common with DSL. The USB 2.0 standard transfers data at up to 480Mbps, faster than cable Internet connections that can reach speeds of up to 150 Mbps. While the USB 1.0 and USB 2.0 standards are classified as high-speed data transfer protocols, the USB 3.0 standard is designated as super-speed and is capable of transferring data at up to 5 megabytes per second.
Limitations
While each of the USB standards is capable of supporting streaming video content over a USB connection, a variety of situations can cause playback problems. For instance, if you're using an older computer to watch streaming video, the machine's processor might not be able to process the video data quickly, leading to playback issues experienced with the USB 1.0 standard. Running multiple applications simultaneously can also cause streaming video playback problems by occupying the computer processor's power and resources.
How to Stream Video
You can stream video over your personal computer by linking it to a device upon which video content is contained via a USB cable. Plug the USB connectors into the computer on one end and into the peripheral device on the other. Once this link is established, the applications needed to view the streaming content launch automatically. At the time of publication, most low-to-mid-priced computers, such as the Dell Inspiron 17R, are equipped with USB 2.0 and USB 3.0 technology, while high-end models, such as the Lenovo ThinkPad W520, are equipped with USB 3.0 connectivity only.
Tips
If you intend to watch streaming video but have only a USB 1.0 connection, transfer the file to a computer to watch from the internal hard drive or an external drive, as USB 1.0 protocol is the most vulnerable to data transfer speed problems that lead to video playback issues. Watching the video file on the device on which it was recorded can also help eliminate any potential playback problems. Alternative expedited methods of transferring data between computing devices include Firewire and Thunderbolt, both of which provide the ability to watch streaming video. Firewire transfers data at up to 800 Mbps, while Thunderbolt is capable of reaching speeds of up to 10 gigabits per second.