A USB port, or universal serial bus, establishes communication between external devices and the host controller. A USB can connect peripherals, such as storage units or keyboards, to your computer. Originally created with a 1.0 specification, the USB has grown throughout the years. The 2.0 specification provides a higher data transfer rate than its predecessor. Many computers offer at least one version of both ports. Locating the 2.0 USB port on your computer can be tricky. The first step is to confirm that you have a 2.0 USB then identify and mark it.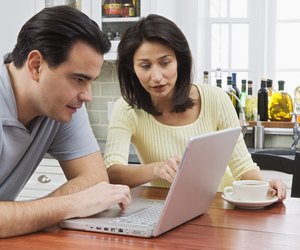 credit: Creatas Images/Creatas/Getty Images
Step
Click on the "Start" button located at the bottom of your desktop. This will open the start menu.
Step
Select "Control Panel" from the list provided.
Step
Click on "Performance and Maintenance" and the "See basic information about your computer." This will open the System Properties window. An alternative method to reach this window is right-clicking on "My Computer" and selecting "Properties' from the menu.
Step
Locate the "Hardware" tab at the top of the screen. Click the tab and then the "Device Manager" button.
Step
Scroll down and locate the "Universal Serial Bus controllers" on the hardware list. Click on the plus sign to open the list. If you have a 2.0 USB port, the word "enhanced" will appear on at least one of the titles.
Step
Use trial-and-error to locate the exact USB port that is 2.0. Some computers have only one or two 2.0 ports. Plug in a device, such as a flash drive. If you receive a message stating this device would work faster on a 2.0 port, than that USB is not a 2.0.
Step
Double-click on the icon at the bottom right side of your desktop, next to the time, that allows for the safe removal of hardware. Click on the device to highlight it, and then the "Stop" button. Remove the device and insert it in the next USB port. Repeat this step with all USB ports. Ports that do not generate this message will be 2.0.
Step
Make a diagram, for future reference, of the ports on your computer. Once you locate the 2.0 ports, note them on a piece of paper and tape it on to the computer or store it in a safe location.