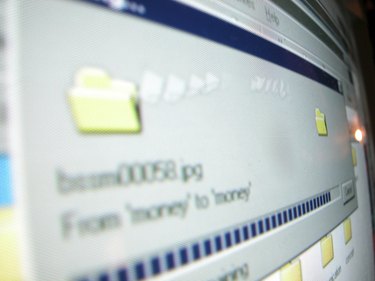 FileZilla is a free file transfer protocol (FTP) program, which is the traditional method of transferring files from and to a server across a network or over the Internet. FileZilla is one of many FTP programs available. A number of users have experienced problems with this software and received the message "Error: Disconnected from server: ECONNABORTED - Connection aborted."
FileZilla Details
FileZilla can implement most of the variations of FTP, which is one of the oldest applications on the Internet. FTP's original version had few security features. To compensate for this, FTP over SSL/TLS, called FTPS and SSH FTP, called SFTP were developed. SSL is the Secure Socket Layer, which was later replaced by Transport Layer Security. These are the security features behind the HTTP Secure protocol, used by eCommerce websites to enable shoppers to enter their credit card details securely. The same security system was added to FTP to create FTP Secure. SSH is the Secure Shell that is a secure terminal emulator. SSH has its own file transfer protocol, known as Secure FTP. FileZilla is also able to transfer files according to these protocols.
Error Characteristics
The error occurs when uploading files from a PC to a server. The application completes 85 to 90 percent of the file delivery, then displays the message: "Error: Disconnected from server: ECONNABORTED - Connection aborted." Afterward the transfer resumes, starting at 40 percent. It may again abort at the 85 to 90 percent mark and slip back to 40 percent transferred, or may complete the second time. On other occasions, the disconnected message appears in the log file, even though the file transfer continues and completes.
Cause
FTP uses two connections, one to send commands back and forth and the other for the transfer of data. FileZilla also maintains a separate connection to display the remote file directory in its own browser window. When a file is being transferred, the user often stops using the browser connection and it times out. The reported disconnect is for the browser connection, but the file transfer connections stay open because regular "keep alive" messages pass back and forth, preventing the server from closing them. The recurring transfer break at 85 percent is caused by an intermediate firewall or router dropping the control connection, which FileZilla then re-establishes.
Solution
FileZilla reports disconnection in its log file, but does not identify which connection was dropped or why. If the transfer proceeds and completes, there is little to worry about; this is a misreported or imprecise warning. Genuine dropped connections are usually caused by firewalls. You should specify FileZilla as an exception to force your firewall to accept the application's traffic. Where errors are caused by intermediate routers, there is little you can do to avoid the problem, because the router is not within your control. FileZilla, however, does work with proxy servers, so you can channel connections through a proxy to help the network server avoid a consistently troublesome router.