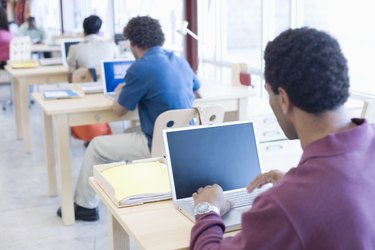 Rosetta Stone can be an excellent tool for learning a new language -- when the program works properly, that is. Error code 2123 is a database error, wherein the program has difficulty either loading the program or loading your progress through the lessons. There are several ways to repair this error, giving you options in case the first repair you try doesn't work.
Updating Rosetta Stone
The simplest way to repair this issue is to update your version of Rosetta Stone. Older versions of Rosetta Stone don't always interact well with newer operating systems and the latest versions of anti-virus and security software. By updating to the latest version, you can ensure maximum compatibility with your computer and reduce the likelihood of conflicts with other software.
Creating a New Shortcut
Sometimes an update is the problem as opposed to the solution. When you install Rosetta Stone, it creates a desktop shortcut by default. When updating to a newer version, the file path to the actual program may change, while the shortcut does not. This breaks the connection, which will prevent Rosetta Stone from loading. Delete the old desktop shortcut and right-click the desktop, then select "New Shortcut" Updating the file path depends on your version of Rosetta Stone and whether you have 32-bit Windows or 64-bit Windows. Launch File Explorer and navigate to "C:\Program Files" for 32-bit Windows or "C:\Program Files (x86)" for 64-bit Windows. Find the Rosetta Stone folder and look for the executable for Rosetta Stone itself, then save the new shortcut. The shortcut should now correctly lead to Rosetta Stone and launch the program.
Rosetta Stone Network: Adjusting Dynamic Paths
Error code 2123 is slightly different for the network version of Rosetta Stone. To assess the issue, close Rosetta Stone and restart the affected computer, then restart Rosetta Stone. If the error persists, you'll need to change the IP path for the program. Launch File Explorer and navigate to C:\ProgramData\Rosetta Stone\Network. Open the DynamicStoredPaths.xml file in a text editor like Notepad. Locate the following tags:
Insert the IP address for the computer (or "127.0.0.1" if the computer isn't connected to a LAN network) and save the file, then delete Tracking.db3 from the Network folder. After a reboot, the program should work.
Reinstallation
Sometimes, the only option is nuclear -- uninstalling the whole program and re-installing it entirely. Reinstallation does mean potentially losing your progress, but a clean install and update to the current version may fix error 2123 when other options have failed. If the problem persists, your version of Rosetta Stone may not be compatible with your computer's operating system. Check the minimum requirements of your version against your computer and operating system's specifications to make sure.