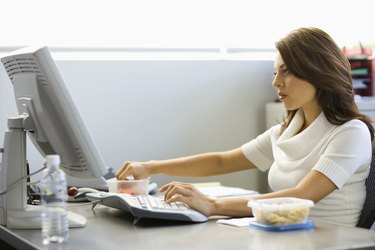 The Foxit PDF reader is a lightweight solution to view and print PDFs, according to Foxit. When Foxit is installed on your computer, Internet Explorer gains access to it for reading PDF files on the Internet. Internet Explorer uses Foxit as its PDF reader if you set Foxit as your computer's default PDF extension handler. You can do this from Foxit's help menu; the setting will configure your computer to use Foxit any time you open a PDF file in the future.
Step 1
Click the Windows "Start" menu and click "All Programs" to view the programs installed on your system. Click "Foxit" to launch the Foxit PDF Reader.
Step 2
Proceed past the Foxit welcome screen and click the "Help" menu at the top of the Foxit software. Select "Set to Default PDF Reader."
Step 3
Click "Yes" to confirm you want Foxit as your default PDF Reader. Launch Internet Explorer from the "Start" menu or by clicking its icon on your desktop. When you click a PDF link, Foxit will open the PDF inside Internet Explorer.