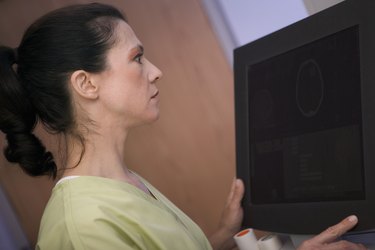 High-definition monitors have tremendous advantages, but those great features bring some baggage with them. Complex, feature-rich monitors can encounter obscure errors that older monitors never had. Occasionally, you might find yourself unable to use your computer at all because of some problem with your monitor, like the "Power Button Lockout" error that some HP displays are susceptible to. Barring a major hardware failure, the solution is actually a simple fix that you can usually work through in less than a minute.
Step 1
Locate the menu button on your monitor. Depending on your exact monitor, the button may be clearly labeled, or you may need to check the monitor's documentation to find it.
Step 2
Ensure that nothing on the desk is pressed up against the menu button and holding it down. This is a common cause of the "Power Button Lockout" message appearing. If anything is pressing against the button, move it away, and make sure you keep objects away from the button in the future.
Step 3
Press and hold down the menu button for at least 10 seconds.
Step 4
Release the menu button when the "Power Button Lockout" message disappears.