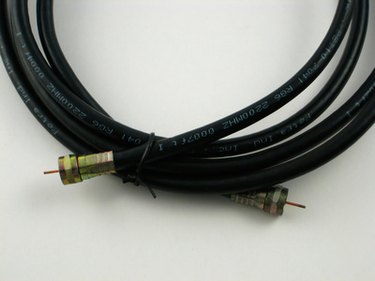 Cable TV is best enjoyed from every room of the house, and you do not need to have a cable box to connect your cable to another room. Even without a cable box, you can still watch your cable from multiple TV sets in your house. This is all legal and does not require any special technical skills, and the process is not dangerous. In fact, you can get this process done within an hour.
Step 1
Loosen and remove the head of the cable wire from the wall cable outlet. Connect the short coaxial TV cable to the wall by placing the head of the cable over the threaded coaxial wall connector. Attach the head of the other end of the short coaxial cable to the single-sided end of the cable splitter. The cable splitter has a one-sided end, where there is a single-threaded coaxial connector for the cable to go in, and a two-sided end, where the cable is split up and transmitted out to two separate TV's.
Step 2
Connect the free end of the coaxial cable coming from the TV to one of the free threaded coaxial cable connectors on the two-side part of the cable splitter; then tighten the head. The way the TV is connected right now, you will be able to watch cable TV just as you did before, but now you have the splitter connected with the free end that you can connect to another TV from the same cable connection.
Step 3
Connect an end of the long cable to the remaining threaded end of the cable splitter while making sure to tighten the head, then connect the other end of the long cable to the threaded coaxial port of the second TV and tighten the head. Turn the TVs on, you will be able to independently watch different channels from each TV. The splitter splits the same signal, but it is the TV that determines what channel is being viewed.