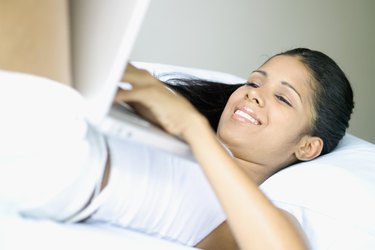 Listening to your favorite radio station is usually one or two clicks away. Once you land on the station's home page, a "listen live" or "listen now" button invites you to tune in. This is handy if you don't have access to a radio, such as in a work or school environment, or if you just prefer to listen online versus on the airwaves.
Public Radio
On most National Public Radio sites, such as Wisconsin Public Radio's, click once on the "Listen Live" button and you begin listening immediately. The site also gives you the option of listening through MP3 Direct or Windows Media if you prefer this or if your browser has issues connecting. This and other NPR stations have on-air schedules you can consult while you listen. New York's WNYC has a separate window for listening live so you can look over news and other stories on the main screen.
Commercial Radio
You usually have to navigate through some advertising on commercial radio in order to listen live. Some stations force you to watch a short 10- or 15-second commercial before you can connect. Others show commercials continually on the screen while you listen. On some stations you must choose what type of device you will listen with, and perhaps download an app if you don't already have it. Devices include mobile phones and iPads, home devices like computers and TiVo, automotive equipment such as Apple Car Play, and wearables like Android Wear and Samsung Gear 2.