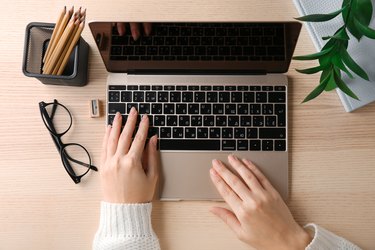 Every Apple MacBook and other Mac computer typically has a name, such as Joe's Mac. This name might show up when you're using network services like Airdrop or iCloud, so other people may see it in addition to you. If you want to rename a MacBook or rename a Mac of any type, you can do so through the system settings. You can also rename user accounts on your Mac.
Change a MacBook Name
The simplest name change on a Mac is a change to the name that displays on the screen under the computer icon, normally located in the upper right corner of the screen. This name is a display-only name and can be changed without repercussions. Click in the name field and type a new name to change it.
Your Mac has other, more critical areas that use its name, and you can also change the name in those areas. To do so, click the "Apple" menu represented by the Apple logo at the top right side of the screen and select "System Preferences."
In the System Preferences menu, click "Sharing." Look for the field labeled "Computer Name" and click "Edit" to change the text field as you see fit. When you're done, click elsewhere to save the change.
Other people can potentially see your computer name, so pick one that is appropriate for where you use your MacBook.
Network Addresses
Your Mac may also have a network address if your computer is on a network.
The network address is either provided by a Domain Name Service system on your network or derived from your computer's name. It's how other computers on your network access your Mac. If you rename a Mac, its network address may change as well.
You can see the network address in the "Sharing" menu by selecting a service that's turned on.
Dynamic Global Hostnames
If you use a service that provides a dynamic global hostname, such a name may be able to be used to access your Mac from across the internet, even if its IP address changes.
To use this feature, enable it in the "Sharing" menu in "System Preferences." Click the "Edit" button below your computer's name. Place a check in the box next to "Use dynamic global hostname" and enter the hostname, username and password provided by the dynamic hostname provider.
Check the box labeled "Advertise services in this domain using Bonjour" if you want other users of your provider to see your computer automatically.
Change User Name on Mac
You can also change your username or another user's name on your Mac.
To do so, click the Apple menu, then "System Preferences." Within this menu, click "Users & Groups." In the "Users & Groups" menu, click the lock icon and enter an administrator username and password. If you don't know it, ask someone who does, such as your corporate IT department, for help.
Control-click or right-click the user you want to rename. Then, click "Advanced Options" in the pop-up menu. Change the user's full name in the "Full Name" field or the account username in the "Account name" field, or both.
If you change the account name, you may also want to rename the user's home directory to match. To do so, rename the directory manually using Finder and then update the "Home directory" field in "Advanced Settings" to match.