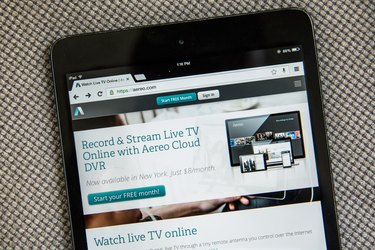 Apple produces easy-to-use, attractive products. While longtime Apple customers have experience activating products using iTunes on a computer, Apple provides another way to handle product activation with an Apple ID and the company's iCloud service. Either method can be used to activate an iPad.
Activate Your iPad With iCloud
Step 1
Turn on the iPad. You'll see a welcome screen with "Hello" in multiple languages. Slide your finger over the "Slide to set up" graphic.
Step 2
Select your language from the menu. Select your country from the list on the next screen.
Step 3
Activate Location Services. GPS location, Wi-Fi router signal strength and cell phone tower triangulation combine to locate your iPad. If you're concerned about privacy, turn off this feature later in the "Settings" app. Tap "Next" to continue.
Step 4
Select your Wi-Fi network from the network list and enter your network username and password. Do not set up an iPad on an unsecured network. If your iPad has cellular data services, you can use that as your data connection, although it's better to use a Wi-Fi network if one is available. A Wi-Fi network doesn't have a carrier bandwidth cap and transfers data faster than a cellular data plan. Tap "Next" to continue.
Step 5
Select the option that works best for you on the next menu -- if you don't have an existing Apple ID, select "Set Up as New iPad." If you're using this iPad to replace an existing one with content on it, select "Restore from iCloud Backup." You can restore from an iTunes backup if you haven't yet backed up to iCloud.
Step 6
Create a new Apple ID if needed, entering your birthday, name and email address. Enter your existing Apple ID if you're restoring from an iCloud or iTunes backup.
Step 7
Read the terms and conditions. Click "Next" to continue and select "Yes" to use iCloud. Choose from the other options as appropriate and tap "Next."
Step 8
Activate the optional "Diagnostics and Usage" if you want Apple to receive diagnostic data on applications that crash and how you use the device.
Step 9
Tap "Start Using iPad" to go to the Home screen. Your iPad has been activated.
Activate Your iPad Through iTunes
Step 1
Open iTunes on your computer and connect your iPad to it with the provided cable.
Step 2
Select the iPad; you'll be given options to "Set Up a New iPad" or to "Restore Backup." If you select "Restore Backup," iTunes transfers your existing playlist and media to the iPad, based on the iTunes backup you choose.
Step 3
Enter a name for the iPad in the field provided. Choose from the lists of options about syncing music, apps and other media and click "Done."
Step 4
Unplug the iPad from your computer. The iPad will prompt you to activate the Location Services feature, which is used by many iPad apps, and you'll be asked to select a Wi-Fi network. After your iPad is on the network, create a new Apple ID or log in with an existing one. You'll be given the option to use iCloud.
Tip
Your cell phone provider activates an iPad's optional cellular data plan if your iPad supports cellular connections.