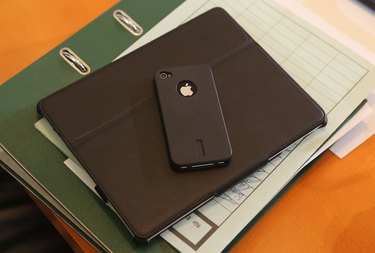 You can connect an iPhone and iPad through iTunes or iCloud to sync the devices, making desired content and apps available on both. You can also connect the two devices through a personal hot spot to share an Internet connection, if the feature is available in your area.
ITunes
Sync your iPhone and iPad using iTunes on the your computer to combine their individual libraries of music, apps and other content. With either device plugged in and selected in iTunes, you can use the tabs on the main pane to pick and sync specific items from the merged collections. All the devices must use the same Apple ID.
ICloud
Enable iCloud -- Apple's online storage and syncing service -- on both iOS devices to connect them wirelessly. On each device, tap "Settings," followed by "iCloud" and sign in using the same Apple ID. Then, from the iCloud submenu, activate specific apps to sync data with both devices in real time.
Personal Hotspot
If your cellular service provider offers personal hot spot capability and you subscribe to it, you can connect your iPhone and iPad using the Personal Hotspot feature. This feature uses the cellular data connection of one device to provide Internet access to another device. Both devices are configured for Personal Hotspot in the Settings and Cellular screens.